Dit evenement is afgelopen.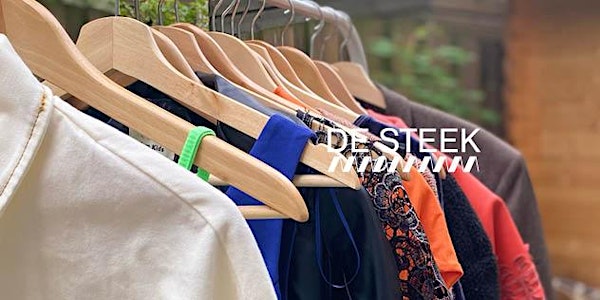 Clothing Swap & Upcycle Cafe 2nd Edition
We are back with the second edition of the Clothing Swap & Upcycle Cafe. Swap your old but still gold clothing with other gems!
Waar en wanneer
Locatie
De Steek, makerstore in fashion & textiles 70HS Van der Hoopstraat 1051 VK Amsterdam Netherlands
Kaart en routebeschrijving
Beleid voor refunds
Neem contact op met de organisator om een restitutie aan te vragen.
Eventbrite-kosten zijn niet restitueerbaar.
Over dit evenement
[Sroll down for English]
𝐊𝐥𝐞𝐝𝐢𝐧𝐠𝐫𝐮𝐢𝐥 & 𝐔𝐩𝐜𝐲𝐜𝐥𝐞 𝐜𝐚𝐟é
Ruilen voorkomt huilen
Het was even afwachten tot de omstandigheden het weer toelieten, maar hier zijn we dan weer met de 2e editie van onze 'Kledingruil en Upcycle café'!
Op zaterdag 16 oktober kan je voor een kleine entreeprijs langskomen met kledingstukken uit je kast die je stiekem een beetje beu bent (maar nog in een tiptop conditie zijn) en wie weet vind je er iets anders prachtigs voor in de plaats!
Plus: dit jaar gaan alle opbrengsten van dit evenement naar een goed doel! 𝐈𝐧𝐭𝐞𝐫𝐬𝐞𝐜𝐭𝐢𝐨𝐧𝐚𝐥 𝐄𝐧𝐯𝐢𝐫𝐨𝐧𝐦𝐞𝐧𝐭𝐚𝐥𝐢𝐬𝐭 is een gemeenschap voor klimaatrechtvaardigheid en een hub voor hulpbronnen die BIPOC en historisch onvoldoende versterkte stemmen in de milieuruimte centraal stelt.
𝐓𝐢𝐣𝐝𝐬𝐯𝐚𝐤𝐤𝐞𝐧
Om de drukte te verdelen, gaan we werken met tijdsloten van 1,5 uur:
11.00 - 12.30 uur
12.30 - 14.00 uur
14.00 - 15.30 uur
15.30 - 17.00 uur
* Stuur ons een bericht op een van onze social media kanalen op welk tijdsvak je wilt komen.
𝐔𝐩𝐜𝐲𝐜𝐥𝐞 𝐜𝐚𝐟é
_____
Heb je een pareltje gevonden die net niet perfect past of een kleine verbetering verdient? Dan kun jij dit zelf leren aanpassen met onze hulp! We stellen onze naaimachines beschikbaar om de gevonden stukken om te toveren tot een geheel uniek stuk. Ontwerpers van De Steek zijn daarbij aanwezig om je daarbij te helpen.
𝐋𝐢𝐯𝐞 𝐕𝐢𝐬𝐢𝐛𝐥𝐞 𝐌𝐞𝐧𝐝𝐢𝐧𝐠
_____
Zou je je kledingstuk nog wat verder willen opvrolijken of heb je een gaatje in een kledingstuk die je zou willen repareren op een mooie manier? Onder begeleiding van Alice kun je techniek 'visible mending' leren, wat betekent dat je de kledingstukken mooier maakt met een borduursel.
Kledingstukken met een kleine beschadiging waarvan de kwaliteit en de conditie van de stof nog goed genoeg is, keuren wij daardoor bij inlevering ook goed. Deze kledingstukken zijn daarbij ook hele goede kandidaten voor deze Visible Mending sessie.
𝐂𝐚𝐟é
_____
We verkopen tijdens het event lekkere drankjes, zoals cappuccino, gemberthee en kurkuma latte. Ook is het mogelijk om wat lekkers of een veganistische lunch aan te schaffen!
𝐑𝐞𝐠𝐞𝐥𝐬:
_____
1> Breng mooie stuks, dus geen verwassen H&Mtjes. Wat wel mag: dat geweldige item met een kleine vlek of gat, hebben immers een Upcycle café beschikbaar! (je krijgt wel minder punten voor een beschadigd stuk en evalueren of het nog de moeite waard is)
2> We evalueren je stuks bij de deur. De items krijgen 1, 2 of 3 punten en je krijgt een kaart met het aantal punten waar je voor mag ruilen, zodat we goed kunnen bijhouden wie wat meeneemt. (Colbert is bijvoorbeeld 3 punten en T-shirtje 1).
3> Breng maximal 8 kledingstukken mee naar de ruil!
4> Entrée kost 5 euro, maar het volledige bedrag gaat naar het goede doel! Ook de opbrengst van het café gaan naar het goede doel.
--
𝐂𝐥𝐨𝐭𝐡𝐢𝐧𝐠 𝐒𝐰𝐚𝐩 & 𝐔𝐩𝐜𝐲𝐜𝐥𝐞 𝐂𝐚𝐟𝐞
Swapping is back!
It has been a hot minute due to the circumstances, but here we are again with the 2nd edition of our 'Clothing Swap & Upcycle Café'!
Saturday October 16, it is possible to visit our clothing swap by paying a small entry-fee. Bring the clothes that you don't fancy anymore, but which are still in a great condition, and you might find some other treasures in its place!
This year, all proceeds from this event will go to charity!
𝐈𝐧𝐭𝐞𝐫𝐬𝐞𝐜𝐭𝐢𝐨𝐧𝐚𝐥 𝐄𝐧𝐯𝐢𝐫𝐨𝐧𝐦𝐞𝐧𝐭𝐚𝐥𝐢𝐬𝐭 is a climate justice community and resource hub centering BIPOC and historically under-amplified voices in the environmental space.
𝐓𝐢𝐦𝐞 𝐒𝐥𝐨𝐭𝐬
_____
To avoid business, we will work with time locks of one and a half hours:
11.00 AM - 12.30 PM
12.30 - 14.00 PM
14.00 - 15.30 PM
15.30 - 17.00 PM
*Leave us a message in one of our social media channels which time slot you would like to come
𝐔𝐩𝐜𝐲𝐜𝐥𝐞 𝐂𝐚𝐟𝐞
_____
Is your treasure not 100% perfect yet? No worries! We will help you get there. Our Upcycle Café is available with sewing machines & professional guidance, so you can learn to make the perfect fit and style. Different fashion designers of De Steek are available with this process.
𝐋𝐢𝐯𝐞 𝐕𝐢𝐬𝐢𝐛𝐥𝐞 𝐌𝐞𝐧𝐝𝐢𝐧𝐠
_____
Does your seemingly perfect garment have a small imperfection? With the guidance of teacher Alice of Alkaline Studio, you can hide these imperfections or make your pieces more personal by adding your own embroidery.
This is why we also approve garments with minor damage, of which the quality and condition of the fabric is still good enough. These garments are also very good candidates for this Visible Mending session.
𝐂𝐚𝐟𝐞
_____
We will be selling delicious drinks and food during the event, such as cappuccino, ginger tea and turmeric latte. We also offer delicious vegan lunches and sweets.
𝐑𝐮𝐥𝐞𝐬:
_____
1> Bring good looking & good quality items, so don't bring cheap clothing that lost it's shape, for example. But what's allowed: amazing looking pieces with a small hole or stain: because we have an Upcycle Cafe ready to repair the items! (we will evaluate your damaged piece at the door, small damages and stains are allowed, but it should be still possible to fix it and should not be too complicated)
2> We will evaluate your pieces at the door and each item will get a 'point' (1, 2 or 3 points). You will get a card with the amount of points that you can use for swapping (for example, a jacket is 3 points, but a T-shirt is 1)
3> You can bring max. 8 garments!
4> Entree fee cost 5 euros, but all these proceeds will go to charity, also the proceeds from the café.