Evenementdetails
Locatie
Église Réformée Wallonne de La Haye
25 Noordeinde
2514 GB Den Haag
Netherlands
Restitutiebeleid
Neem contact op met de organisator om een restitutie aan te vragen.
Eventbrite-kosten zijn niet restitueerbaar.
Beschrijving van het evenement
Over dit evenement
Venez et voyez, venez et voyez. Non! venez cette écoute, venez cette écoute. Les merveilles ne sont pas encore hors du monde, vous pourrez les entendre lors du concert de "Das Wunderkammer" (Le cabinet de curiosités). Cela promet d'être une merveilleuse soirée pleine de sons magiques et de découvrir par vous-même les merveilles de la musique que cet ensemble interprétera.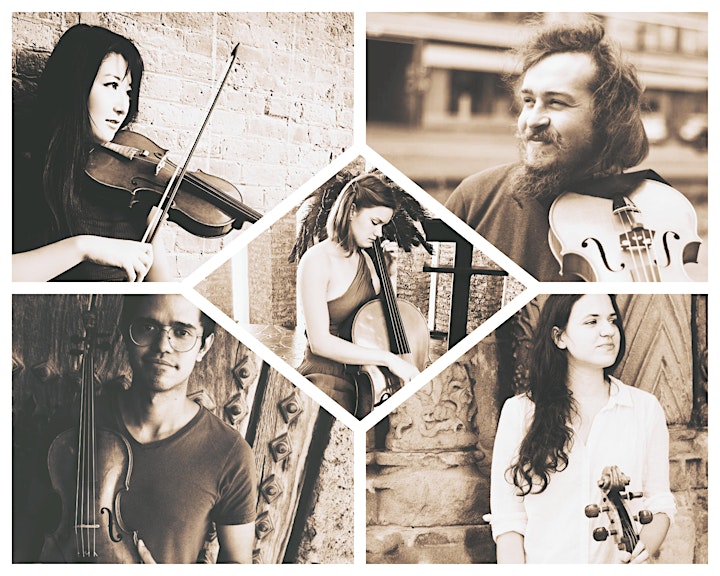 Biography
Born in the Hague in 2020, Das Wunderkammer is a young, vibrant ensemble dedicated to historical performance exploring repertoire of the 17th and 18th century. Its founding members come from Japan, Spain and Colombia.
They are students or graduates of prestigious music institutions such as Royal College of Music in London and Royal Conservatory the Hague.
Das Wunderkammer specializes in repertoire that ranges from string duos to quintets. It explores music of canonical as well as lesser-known composers that made an important contribution to the world of chamber music.
Karolina Szymani, oboe
Karolina was born in Warsaw and began her adventure with music on the violin. She received her master's degree in modern oboe in 2015 at the Chopin University of Music in Warsaw. After that, the early music world has completely absorbed her. She started at first studying the historical oboes in Bydgoszcz (Poland) and currently is finishing They are graduates of prestigious music institutions such as Gnessin State Musical College in Moscow, Royal College of Music in London and Royal Conservatory the Hague master's course at the Royal Conservatoire of The Hague, both with Frank de Bruine.
Karolina performed with several early music orchestras and ensembles and took part in early music courses, festivals, and masterclasses in Poland, France, and the Netherlands. Since October 2020 she has been an oboist of the Historical Wind Quintet "Queentet" based in The Netherlands and formed by alumni and students of the Royal Conservatoire of The Hague. Since 2021 she has been a member of Das Neue Mannheimer Orchester which was established in The Hague by Canadian harpsichordist and fortepianist Anders Muskens, focusing on periods from late Baroque, through gallant and Classical, to the early Romantic – especially from composers of the Mannheim School.
Camilo Arias, violin
Born in 1991 in Cali Colombia. After an initial formation at the Conservatory Antonio Maria Valencia and the Universidad del Valle, he cursed his bachelor studies at the Hochschule für Musik und Theater Hamburg under the direction of Christoph Schickedanz in Hamburg, Germany. He was awarded with the excellence-price Hermann und Milena Ebel of the same institution and was member of the orchestral academy of the Pfalztheater in Kaiserslautern in 2015, where he worked as a regular member in 2017. He cursed his master-studies in Baroque Violin at the Hochschule für Musik und Darstellende Künste Frankfurt am Main, under the direction of Petra Müllejans, where he was awarded with a Deutschland-Stipendium twice. He took part in several baroque orchestral academies such as Les Arts Florissants Jr. (William Christie), Theresia Baroque Orchestra (Alfredo Bernardini and Chiara Banchini, among others), and the Bach Akademie Stuttgart.
Saaya Ikenoya, violin
Born in Saitama (Japan) in 1991, she moved to Spain at a very young age. She obtained her Bachelor of Music in Violin Performance in the Higher School of Music of Basque Country Musikene, in San Sebastián (Spain) and she completed her Master of Performance at Royal College of Music in London (United Kingdom). From 2016 she immersed herself in the study of Early Music, with Prof. Manfredo Kraemer at ESMUC in Barcelona. Since 2020 she is based in the Netherlands and she is pursuing her Masters in Baroque Violin at the Royal Conservatory of the Hague.
She has extensive professional experience both with symphonic orchestras and also chamber ensembles, ranging from baroque repertoire to contemporary. Saaya has collaborated regularly with the Basque National Orchestra and City of Madrid Orchestra, and she was concertmaster at Gregorio Solabarrieta from 2017 to 2019. In the field of Historical Performance, she has performed in ensembles such as Orchestre Français des Jeunes Baroque 2017, Montis Regalis Academy, Jeune Orchestre de l'Abbaye aux Dames, Spira Mirabilis, Das Neue Mannheimer Orchestra and the Orchestra of the Eighteenth Century. As a chamber musician, she has led and performed in several groups, such as Miyabi Duo with Nikos Stavlas and Zaïre Ensemble.
She received advice and collaborated with musicians such as Enrico Onofri, Rinaldo Alessandrini, Sophie Gent, Adrian Butterfield, Catherine Manson, Thomas Hengelbrock, Rafaël Pichon, Sigswald Kuijken, among others.
Matylda Adamus, cello
Born in 1997 in the South of Poland, Matylda grew up in an artistic environment, her grandmother and close aunt being painters and both parents being the true theater enthusiasts. She got her first piano lessons at the age of three and first cello lessons at the age of seven. As well as touring with youth orchestras and playing in chamber music groups with the modern cello, she started her incursion in Early Music by visiting masterclasses of baroque music and dance in Poland, Italy and Austria.
She studied modern cello with Roberto Trainini at the Conservatorio Claudio Monteverdi in Bolzano. Studying with prof. Trainini had great significance and have improved her artistry a lot. She begin attending baroque chamber music lessons with the class of the prominent flutist Lorenzo Cavasanti and then later, she studied in the baroque cello class of prof. Catherine Jones at the Conservatorio Felice Dall'Abaco in Verona. Further on, she participated in masterclasses with Christophe Coin, Giovanni Antonini, Federico Maria Sardelli, Alfredo Bernadini, Paolo Grazzi, Fabio Bonizzoni, Walter Vestidello, Marco Testori, Chiara Banchini, Stanley Ritchie, she performed on the numerous festivals (Trame Sonore Mantova, Vicenza in Lirica, Festival Risonanze Malbroghetto, Festival dei Saraceni Mondovi, d'Ete a St.Germain Geneve, Monteverdi Festival Cremona, Mahler Festival Dobiacco). She was a part of "Orkiestra historyczna oh!" during the album recording of "Sonety Krymskie S.Moniuszko" for the Polish Radio, and won the scholarship for Theresia Youth Orchestra 2019-2021 and for Montis Regalis Academy 2020. From September 2020 she is a student at Royal Conservatory the Hague in the class of prof.Lucia Swarts.
Datum en tijd
Locatie
Église Réformée Wallonne de La Haye
25 Noordeinde
2514 GB Den Haag
Netherlands
Restitutiebeleid
Neem contact op met de organisator om een restitutie aan te vragen.
Eventbrite-kosten zijn niet restitueerbaar.