Dit evenement is afgelopen.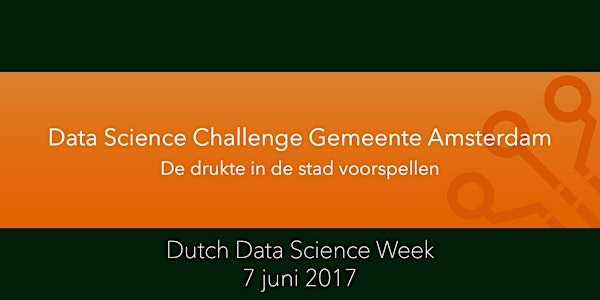 Data Challenge Gemeente Amsterdam: Managing Crowds With Smart Data Solution...
Locatie
DataLab Amsterdam
117 Weesperstraat
1018 VN Amsterdam
Netherlands
Beschrijving
Unique opportunity to work with Amsterdam's (open) data during this one day hackathon!
Amsterdam is getting more crowded every day. Not only do more visitors come to our city, they also come more often and stay longer. In 2015 138,6 millions of visitor days were counted, compared to 71.4 million in 2011. The popularity of Amsterdam comes with numerous challenges for visitors and residents: traffic jams, a tensed housing market and Amsterdammers feeling their home town changing fast. The city of Amsterdam aims to come to grisps with the crowdedness of the city through the use of data. If we know better who, where and when people are, we can take this into account in our daily operations. For example by nudging tourists to different time slots, or sending janitors to the right places.
Goal of the Challenge
The challenge is to predict crowdedness and do something about the negative effects of it. Therefore it is needed to know who or what is where and when. The challenge is to predict crowdedness as precisely as possible. The main tasks for our data scientists for this challenge is twofold:
- Models: Develop or extend new concepts or models to respond to the crowdedness dynamically
- Data: To find new (open) datasets and find patterns between the data sources

Specification of the assignment
Crowdedness of Amsterdam, or to be precisely the negative effects of crowdedness, is not a problem is such. It is such an enormous challenge, you'd better call it a phenomenon than a problem. Phenomena such as poverty - if you are really optimistic - almost impossible to solve. However, if we make a phenomenon smaller, it becomes more tangible. The smaller you make a problem, the better you can create a solution. And the better one can examine whether a solution works, and adjust the solution to make it work. Therefore, the city of Amsterdam has launched a program with many solutions for many tangible problems. An overview of this can be found on the website. If we are looking to problems that can be solved through data analytics, we have distinguished 9 categories after interviewing 30 Amsterdammers about crowdedness of the city. An overview of the analysis of these categories can be found here:
- Litter
- Too little space to move
- Commercialization of private space
- Nuisance
- Higher cost
- Bad behavior
- Parking
- Peak capacity

Criteria
- Residents of Amsterdam should benefit from the solution
- Creative data sources (e.g. scraping) are a big plus, especially if you demonstrate the relevance of the dataset to model crowdedness
- Working prototypes are preferred over grand ideas
- A scalable but Minimum Viable Product
- Potential of being integrated in work processes
- (semi) professional contributing organization who share part of the challenge are also welcomed. As local government we tackle this challenge in co creation.

Data
- Our open data catalogue at https://www.data.amsterdam.nl
- More info and English documented data from a previous hackathon
- For more information email our data guide Jasper Soetendal: j.soetendal [at] amsterdam [dot] nl