Dit evenement is afgelopen.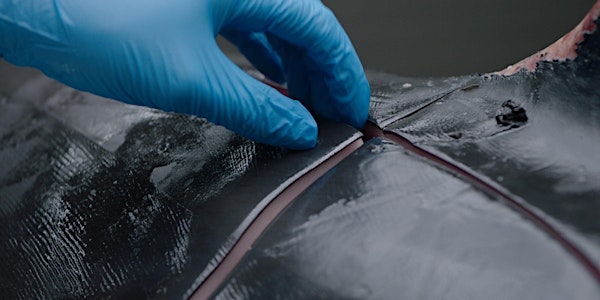 Deep Ecology Talks
Deep Ecology Talks invites artists and researchers to give their view on what it means to be a human within a (non-)living planet.
Waar en wanneer
Locatie
Waag, Nieuwmarkt Nieuwmarkt 4 1012 CR Amsterdam Netherlands
Kaart en routebeschrijving
Over dit evenement
This programme is in English.
Artistic researcher Esmee Geerken cordially invites you to the Deep Ecology Talks. For this series, Geerken invites artists, researchers and everything in-between to give their view on what it means to be a human within a (non-)living planet; how to shift gears, while being entangled within complex – yet clearly unsustainable and unjust, systems? How to balance between being hopeful – acting hopeful, and facing the reality of climate change, inequality and biodiversity loss?
Deep Ecology, referring to a term coined by ecologist Arne Næss in 1973, entails the idea that the ecosystem is a web of complex relationships that needs to be regarded as a whole, with moral and legal rights to remain healthy, independent from human extractions of the ecosystem.
The Deep Ecology Talks are part of Geerkens' ongoing research on 'Building as being' at Waag and part of an honours module for the Institute of Insterdisciplinairy Studies. They welcome everyone with an interest in ecology, life, diversity and the future of our science parks, cities and planet.
Take a look at the programme and register (for free)!
Deep Ecology Talk 3: Vibeke Mascini - Mean Sea
19 October 2022 17:15 - 19:30 hrs. | Location: Waag, Nieuwmarkt 4, Amsterdam, NL
Visual artist and writer Vibeke Mascini will give a talk on her artistic research practice. This includes a long-term collaboration with scientists, engineers, government employees and musicians, evolving around historic and futuristic concepts of electricity as a speculative agent of life.
'Mascini has been doing research on (unlikely) sources of energy, like the body of a whale or a batch of cocaine, with the goal of making our surroundings palpable for humans.' (Gletsjerwater, De Groene, 2022.)
By putting central the material implications of unlikely sources from which electricity is derived, Vibeke proposes installations where memories and mysterious sensorial experiences meet the newest technology of the rapidly growing field of energy storage systems. Aiming to explore the complexities of the intimate relation between source and user.
For her new project at Waag, Mascini's report for the Weather Network Station, builds on collaborations between art and science in the pursuit of interdisciplinary knowledge. With the working title Mean Sea, Mascini continues her ongoing research into an understanding of energy as a statement of interconnectedness and entanglement—between species, media and nature, matter and energy.
Programme
17:15 - 17:30 hrs. Doors open - Welcome by Esmee Geerken
17:30 - 18:00 hrs. Deep Ecology Talk by Vibeke Mascini
18:00 - 18:30 hrs. Q&A
Vibeke Mascini (NL) is a visual artist and writer. Through sculptures, installations, video and text, she explores a scaling of abstract phenomena into a sensorial scope, with the intention to seek agency from intimacy. Currently, Vibeke works with Waag Futurelab within the World Weather Network. She is also an artist in residence at the Rijksakademie in Amsterdam 2021-2023, and Sculpture tutor and a research fellow at the Royal Academy of Art in The Hague.
Accessibility: the Waag-building is a protected monument, so unfortunately it is not equipped with an elevator. The venue is on the second floor and up two flights of stairs, the second of which is steep. There is a gender neutral bathroom available on the first floor.
Deep Ecology Talk 4: Eva Hayward - More lessons from a starfish
Wednesday 23 Nov, 17:30 - 18:30 hrs. | Location: Waag, Nieuwmarkt 4, Amsterdam, NL
Eva Hayward (US) is an anti-disciplinary scholar coming out of the History of Consciousness tradition of the University of California at Santa Cruz. Her training is in the history of science, film and art history, and psychoanalytic semiotics, attentive to the persistence of sexuality and aesthetics in the structuring of knowledge, subjectivity, and power. She is an assistant professor in the Department of Media and Culture Studies at Utrecht University.
Read Hayward's essay Toxic Sexes: Perverting Pollution and Queering Hormone Disruption
About Esmee Geerken
Esmee Geerken is an artist and earth scientist, combining both disciplines in her artistic research practice, in which she questions our experience of the material environment. Esmee graduated from Gerrit Rietveld academy and looked at the microscopic shells of unicellular marine organisms for her PhD in geochemistry at the Netherlands Institute for Sea Research (NIOZ). Geerken is currently artist in residence at the UvA-institute of advanced studies and the Waag project T-Factor.
About T-Factor
What chances and possibilities lie within the temporary initiatives or 'meanwhile spaces' of urban areas? How can we enliven these initiatives in an inclusive way that offers space to a variety of life forms: people, plants, animals and microbes? For the upcoming two years, Waag will explore these questions at Amsterdam Science Park with the EU-project T-Factor.