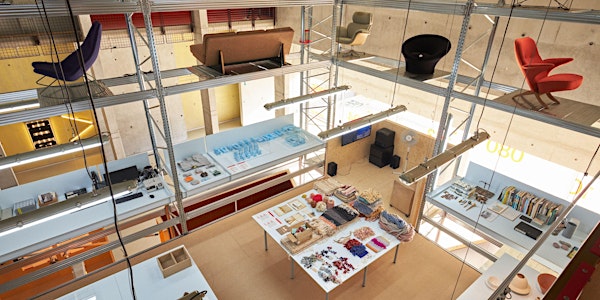 Design Day
Een dag vol (Nederlands) design en designerfgoed.
Datum en tijd
do. 8 jun. 2023 14:30 - 21:00 CEST
Locatie
Nieuwe Instituut Museumpark 25 3015 CB Rotterdam Netherlands
Beleid voor refunds
Neem contact op met de organisator om een restitutie aan te vragen.
Eventbrite-kosten zijn niet restitueerbaar.
Over dit evenement
6 uren 30 minuten

eTicket voor mobiel
DESIGN DAY
Nieuwe Instituut warmly invites you to Design Day! Join us as we welcome contemporary makers, design practitioners and archivists to share innovative projects and conversations in the field of (Dutch) design and design heritage.
Design Day will feature special detours through the installations Archives at Risk and the Droog30. Design or Non-design?; a panel discussion with international pioneering archivists and a reflection on the legacy of design institutions Premsela and the Netherlands Design Institute; a conversation moderated by the 'Droog30. Design or Non-design?' curators, with an intervention by The New Stijl. The Design Night party will close off the day with dancing until midnight.
Programme
14:30-16:00 Future Archives: New Approaches to Preserving Design
How will we remember today's most exciting designers in 50 years? And how much do we know about who created the work that has inspired today's cutting-edge design? In the Netherlands, and globally, design and digital culture archives are under threat. Fortunately, archivists are finding innovative ways to preserve these vital records and make them accessible to new audiences. With: James Rae Parnell – Pirate Bay Archive; Kinda Ghannoum and Sally Alassafen -- Syrian Graphic Design Archive; Joel Derksen and Patrick Pittman – Nor: A Living and Open Commons of Canadian Design. Moderated by Dr Alice Twemlow.
17:00-18:00 Revisiting Design Institutions: the Netherlands Design Institute and Premsela
Aric Chen, Nieuwe Instituut's General and Artistic Director, talks to some of his predecessors: the former directors of the Netherlands Design Institute and Premsela, which was controversially merged with other institutions to form (Het) Nieuwe Instituut in 2013. With Els van der Plas, Dingeman Kuilman and John Thackara, they will reflect on how design has changed since then, and how design institutions might change with it.
19:30-21:00 Design Movements: Droog & The New Stijl
A dual event about design movements, featuring the 'Droog30. Design or Non-design?' installation and design platform The New Stijl. Aric Chen, General and Artistic Director of Nieuwe Instituut will moderate a conversation with Droog30 curators Maria Cristina Didero and Richard Hutten, Droog founders Renny Ramakers and Gijs Bakker together with Marco Sammicheli, Director of Museo del Design Italiano (Italian Design Museum) amongst others. The talk will include a contribution by The New Stijl platform of creatives as they share their kaleidoscopic visions on design as a practice of the future.
20:00-23:59 Design Night
Sound and light installations, performances, and – most of all – music that will keep you dancing until midnight. More details will be announced soon!
All Day
Detours Together with our detour guides – the Nieuwe Instituut's team of tour guides – you can experience new ways of looking, thinking and designing. Detours will take you on an expedition through the installations Archives at Risk and Droog30, with surprise adventures through the building of het Nieuwe Instituut. Find out more about our talented guides Wietske Flederus, Naomi He-Ji en Laura Grimm here.
For more information, please visit our website
Om deze tekst in het Nederlands te lezen, klik hier.
Image credit: Speculative Design Archive, Nieuwe Instituut, 2018. Photo by Johannes Schwartz
Over de organisator
Nieuwe Instituut is het nationale museum voor architectuur, design en digitale cultuur. Nieuwe Instituut houdt zich bezig met de grote ontwikkelingen in de maatschappij, zoals de krapte op de woningmarkt, de energietransitie, de opkomst van kunstmatige intelligentie, mobiliteit of het gebruik van de publieke ruimte. Ontwerpers, waaronder architecten en digitale makers, kunnen aan die ontwikkelingen een belangrijke bijdrage leveren. Nieuwe Instituut toont het werk van ontwerpers, brengt mensen met elkaar in contact, verzamelt, ontwikkelt en deelt kennis.