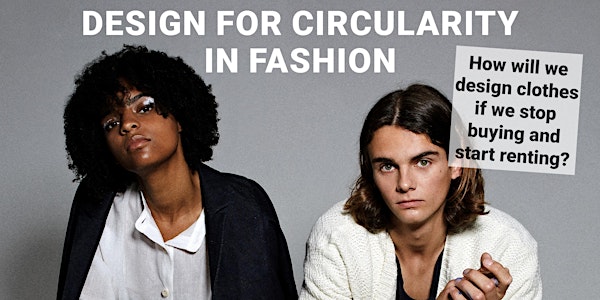 Design for circularity in fashion - #1 Fashion rental
Evenementdetails
Locatie
The Student Hotel Eindhoven
1 Stationsweg
5611 AA Eindhoven
Netherlands
Beschrijving van het evenement
Beschrijving
This official Dutch Design Week event will partly be an interactive session about design challenges when renting becomes the norm in fashion.
Renting and leasing is part of the five circular business models, also called 'product as a service'.

This event is hosted by Fashion platform Our World in collaboration with The Student Hotel in Eindhoven. Together, we proudly present the following speakers and circular economy experts.

14:30-15:00 Walk in

15:00-15:15 Welcome and short introduction to the circular economy and fashion rental.

15:15-15:50: Gwen Cunningham, Lead Circle Textiles Program at Circle Economy. She'll share her insights on this topic based on the Switching Gear project, which aims ​to accelerate re-commerce and rental business models.

15:50-16:50: Industrial designer Yassine Salihine will provide a short interactive session on design for rental.

16:50-17:25: Interactive Q&A with the audience:

17:25-15:30 Closing
17:30-18:00 Drinks
We hope to welcome you 25 October in The Student Hotel in Eindhoven, but there's more:
This event is accompanied with an editorial series about the rise of rental services in fashion published in OW. Magazine.


We'd like to introduce you to beautiful sustainable fashion initiatives, therefore our regular ticket for this event include a Sustainable Fashion Gift Card of 10 euros. This gift card will be launched later this year.


Would you like to meet designers behind circular and sustainable fashion projects? RSVP to our free tour at Dutch Design Week, taking place 25 October at 11:00. Send your name and tel nr to: nanette@ow-ourworld.nl

Credits photo:
Photogrpaher: Asia Werbel
MUA: Khandiz Joni
Models: Maéna (Body London) and Aldo Heubel


---

Why do we address fashion rental?
In a circular world, everything we consume and dispose will be looped back into our economy. Ideally, nothing is wasted, because waste is just as much a resource. This approach is needed more than ever, as the earth's resources are becoming scarce and climate change is ever more pressing.

The rise of fashion rental
The fashion industry is exploring how to become more circular. And one way of doing that is appying rental and leasing business models. Rental in fashion isn't new, but it's changing. Driven by fashion tech companies with expertise in reverse logistics and inventory management, rental is transforming from an outdated model to an innovative, modern way of consuming fashion. Success stories that have manged to draw attention worldwide are Rent the Runway (US), Ycloset (China) and Dutch Mud Jeans with its leasing system. Recently in the Netherlands, we have seen young and bold entrepreneurs starting their own rental fashion companies. Probably a smart move, as the fashion rental market is projected to be worth $1.9bn globally by 2023 – a doubling in value from 2017.

Design for renting
Currently, fashion brands design to sell their clothes to one customer. But what if we design for rental? And 2, 3 and maybe even more customers who will wear the garment in the first year? Will or should that influence (fashion) design from a technical and aesthetic perpsective and how? If fashion rental models scale up, how will that impact our environment and what are possible design solutions?
---
Support independent content creation
Fashion platform Our World aims to contribute to moving the world to sustainable fashion, by supporting the (Dutch) community of fashion pioniers. Therefore, we feature fashion pionieers at our events and publish the content in our online magazine for free.
Our World values its independcy, which means OW. Magazine doesn't engage in any paid collaborations for its stories. Articles are always fact checked by the interviewees, but our editors always hold the pen.
However, content creation based on desk research and interviews takes time and effort. If you like our independent approach for OW. Magzine, we'd like to give you the opportunity to show your support by buying a ticket including a 5 euro donation for our editorial work.
Ticket fees of our events are based on covering cost, aiming to make engaging with sustainable fashion as accessile as possible for everyone.
Many thanks,
The editorial team of OW. Magazine
Datum en tijd
Locatie
The Student Hotel Eindhoven
1 Stationsweg
5611 AA Eindhoven
Netherlands
Restitutiebeleid