Dit evenement is afgelopen.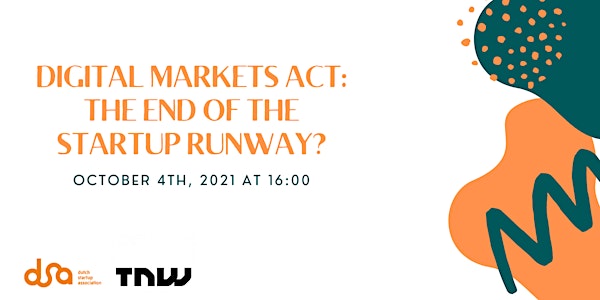 Digital Markets Act: The end of the startup runway?
This online event, hosted in Dutch at TNW, will focus on the impact and consequences of the Digital Markets Act (DMA) for start- and scaleup
Door Dutch Startup Association (DSA)
Datum en tijd
ma. 4 okt. 2021 07:00 - 08:30 PDT
Over dit evenement
UPDATED ZOOM LINK: https://us06web.zoom.us/j/81987002567?pwd=SlhzUjkveTNPTkpBVkNpQlUwTUtuQT09
Our confirmed speakers include:
Rogier Klimbie (Head of Public Affairs, DSA)
Geert Moelker (Ministry of Economic Affairs)
Lotte de Bruijn (Managing Director, NLdigital)
Eli Bressert (CEO & Founder, Origin)
To register for the event and confirm your attendance, please register here. We will announce the complete program and final event details soon to those who registered for the event.