Dit evenement is afgelopen.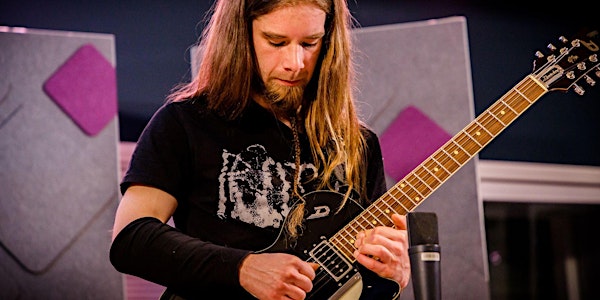 Double concert - Aura Bouw and Sjors van der Mark
What would this sound like?
Waar en wanneer
Locatie
Paviljoen Ongehoorde Muziek 106 Ruysdaelbaan 5613 DL Eindhoven Netherlands
Kaart en routebeschrijving
Beleid voor refunds
Neem contact op met de organisator om een restitutie aan te vragen.
Eventbrite-kosten zijn niet restitueerbaar.
Over dit evenement
Double concert - Aura Bouw and Sjors van der Mark
Aura Bouw is a composer from Tilburg that has developed a love for guitar, voice and orchestra-sounds. She combines these sounds with electronic scapes for the strong change in atmosphere it provides. Her music starts from imagery, of which she then asks herself: what would this sound like? The result is a moment where you see the world through Aura's eyes.
When she works with musicians, she wants to make sure that the identity of the musician is present on stage. This asks for a certain freedom in her compositions, which she gladly gives to the musician. She is going to work together with guitarist Sjors van der Mark to present a composition in which improvisation is key. This will result into a unique work of sound that only exists in that moment!
Sjors van der Mark studied classical guitar with Enno Voorhorst and Marlon Titre and took further lessons with Pedro Mateo Gonzalez, Sabrina Vlaskalic and lutenist Joachim Held. Due to the focus on contemporary music, the electric guitar also started to play a greater role, for which he took lessons with Wiek Hijmans. Since that time, the electric guitar can be regarded as the main instrument. Sjors completed his Master of Music at the Fontys Conservatory in Tilburg cum laude (2017). In 2021 he completed the Master Contemporary Music at the conservatory in Ghent with great distinction. During this master, he arranged contemporary works by Vivier and Ligeti, among others, for rock band (more to be heard soon). Furthermore, during this training the focus was on collaborations with composers such as Malin Bång, Jesse Broekman and Fritz Hauser. The focus of their own work and (occasional) collaborations is on their own composition and improvisation, in which different instruments and various electronics broaden the sound world. Sjors has a permanent position with electric guitar at Orkest de Ereprijs, which works with Dutch composers such as Martijn Padding, Chiel Meijering and many others. The orchestra plays a major role in education through projects with conservatories and organizing the international Young Composers Meeting. Furthermore, Sjors has a permanent place with Herz Ensemble (with bass and baritone guitar), and he regularly plays with the Doelen Ensemble. He has also worked with Red Note Ensemble, and artists such as Wiek Hijmans, Aart Strootman and Frederik Croene. With this ensembles, Sjors has worked closely with composers James Dillon, Kate Moore, Peter-Jan Wagemans and others.