Dit evenement is afgelopen.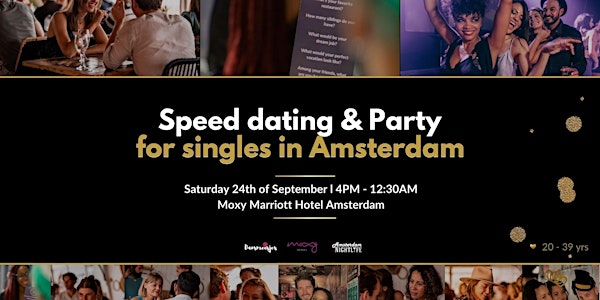 Drinks & Speed dating for Singles in Amsterdam
Are you single and ready to mingle? Come join our speed dating event, Hotel Party + DJ, drinks, chats and above all; fun!
Waar en wanneer
Locatie
Moxy Marriott Hotel l Amsterdam Houthavens Danzigerkade 175 1013AP Amsterdam Netherlands
Kaart en routebeschrijving
Beleid voor refunds
Neem contact op met de organisator om een restitutie aan te vragen.
Eventbrite-kosten zijn niet restitueerbaar.
Over dit evenement
All singles go to the hotel, motel, holiday inn 🎶
Put down your phone and join us on Saturday 24th September at Moxy Hotel Amsterdam.
After a first sold out Beach Party edition at Ohana, Inner Circle and Saturdates join forces again to treat you to the best singles night in town.
Forget all you know about speed dating and awkward mixers, Saturdates Hotel Edition at Moxy Marriott Hotel, with a playful and intimate vibe, is all about the party first and the dating second.
What's the plan? You decide…
💘 SPEED DATING
Meeting face to face is the name of the game here. Ten singles, 4 minutes each, make your bets... We'll also have some daring question games designed to break the ice (not the hearts).
💃🏻🕺🏽 PARTY TIME
Can't join the speed dating? We've got your back! From 8.30pm, we'll be kicking the after-party up a notch. Come along to boogie down with like-minded singles, sip on bespoke cocktails and dance the night away as our DJ spins the hits until late.
🍣🍕SUSHI & PIZZA
But why not make a feast of it and treat yourself to Sushi & Pizza in between the Speeddate and the Hotel party. Options are 12 pcs of Sushi + a Pizza slice (Margeritha, Pepperoni or Vegan)
Choose between: Salmon Flamed Aspergo, Carpaccio Surf & Turf, Soft Shell Ebi fry, Crispy Crab, Tartare de Salmon, Maki avocado, Nigiri Florida, Sashimi Salmon, Crispy Ebi, Crispy crab, Crispy yakitori, Maki komkommer, Tartare mango, Nigiri Ebi + 1 Large slice Margarita, Pepperoni or Vegan Pizza
MIX & MATCH YOUR PARTY
Get your solo ticket or bring a single friend along with the speed dating duo ticket. The speed dating ticket automatically includes the hotel party ticket. You also have the option to buy a hotel party-only ticket
Speed dating: 4pm to 8pm
Party: 8.30pm to 12.30am
Age range: 20 - 39 years old
Languages: English & Dutch
DJ & MC: Smash & Aries l Afro, Pop, Urban & House
With Love,
Team SATURDATES
Follow us at @SATURDATES_NL
You can find more information about this event here
------------------------------------
TICKET PRICES
EARLY BIRD
HOTEL PARTY TICKET €10 l SOLD OUT
SPEED DATING + PARTY [SOLO] €15 l SOLD OUT
SPEED DATING + PARTY [DUO] €27,50 l SOLD OUT
SUSHI & PIZZA €25,00 l NOW AVAILABLE
REGULAR
HOTEL PARTY TICKET €12,50 l SOLD OUT
SPEED DATING + PARTY [SOLO] €20 l SOLD OUT
SPEED DATING + PARTY [DUO] €37,50 l SOLD OUT
SUSHI & PIZZA €27,50 l SOON AVAILABLE
LAST MINUTE
HOTEL PARTY TICKET €17,50 l NOW AVAILABLE
SPEED DATING + PARTY [SOLO] €25 l NOW AVAILABLE
SPEED DATING + PARTY [DUO] €47,50 l NOW AVAILABLE
SUSHI & PIZZA €30,00 l SOON AVAILABLE
------------------------------------
FAQ
​​1. How does speed dating work? First you will receive your match card with the names of all the singles. The ladies will get a fixed seat, while the men change tables each round. Each round will take 4 minutes and you will meet between 10 - 15 people during the speed date. If you have a good connection with somebody after 4 minutes and you would like to match with that person you can leave a mark behind the person's name. After the speeddate, you can still mingle around at the party and add names to your match card. Before leaving, you may leave your card in the Box at the entrance, so that we can send you your matches. Within 72 hours after the event you will receive your matches (+ email addresses) of the persons you match with. The rest of the magic is up to you! :)
2. Can I join the whole day? Yes! In the speeddate ticket the hotel party is always included. This is the perfect opportunity to meet the singles you haven't spoken with yet after the speed date.
3. Will there be a registration for the speed date? Yes, we make a selection of the participants to balance the amount of women and men. That's why you will be asked to fill in your contact details with your confirmation email.
Before the event, you will receive an email confirming whether you are selected or not.
If you are not selected; you will be offered to use your ticket for the selection for the next speed date event or any of the SATURDATES events within three months (no refund). If you are selected; you will receive all the details to prepare yourself for the speed date and Hotel Party.
You can find more FAQ'S HERE
------------------------------------
Refund policy
1. In case you're not selected for the Speed Date this time, you will be offered to use your ticket for the selection for the next Speed Date event or any of the SATURDATES events within 3 months (no refund).
2. Ticket swap is not allowed (also not with DUO tickets)
3. No show is no refund in any form