Evenementdetails
Restitutiebeleid
Restituties tot 30 dagen voor evenement
Beschrijving van het evenement
Earth Day Tangles 2021 Zentangle Inspired Art
Over dit evenement
Hello! Let us till you something awesome. On Saturday 24th April, Hilde Van Ginhoven Czt (Act2Tangle) and I (annietaylorczt) are holding a live Zoom workshop for Earth Day 2021. This will be at 6pm UK time, 7pm in Europe, 11am PDT, 12am MDT and 2pm EDT in the USA. I hope you will join us as it's for a good cause - a percentage of our profits will go towards planting trees - and we will focus on colour and organic tangles. And we hope it will be great fun! We have certainly had fun preparing the workshop...
Payment is via PayPal. If you are in Europe, please make your payment is in euros (40) and if you are outside Europe, please make your payment in British pounds (40).
If any Questions: email us at annietaylorczt@gmail.com or info@act2tangle.com. We will send you details of materials and payment.
IN ENGLISH, DUTCH and SPANISH!
The focus of Earth Day is to REUSE, RECYCLE, REPAIR and RESTORE and we urge you to avoid purchasing additional materials but to use what you have, reuse an existing, uncompleted tile or to repurpose one for today's workshop. You could also draw your outline on a large piece of watercolour paper and this would work equally well!
We will be adding lots of colour, so you can use your favourite watercolours – pencil, paints, tints, inks, whatever you have that you are comfortable using on your chosen paper/tiles. We will be using our favourite Viviva colours which are highly pigmented sheets of colour in a tiny little booklet, made in India, so if you have these, we will show you how to get the best out of them.
You will see that our focus tangling is in the shape of a tree and for this reason, we have chosen The Nature Conservancy's campaign 'Plant a Billion Trees' as the charity that we will make our donation to after the workshop. This will be a significant percentage of our profits for the day and we will provide you with details of the number of trees we have been able to gift after the event. We are really hoping that we can offer to plant a minimum of 50 trees! The campaign works on the concept of 'gifting' and so anyone can gift the planting of a tree at any time. The world is in crisis and the simple act of planting a tree – done by many people – can help to start restoring the balance.
Annie and Hilde love tangling together and hope that their enthusiasm and enjoyment they share for Zentangle will be most evident in this fun, bright and optimistic workshop! Please expect to have fun!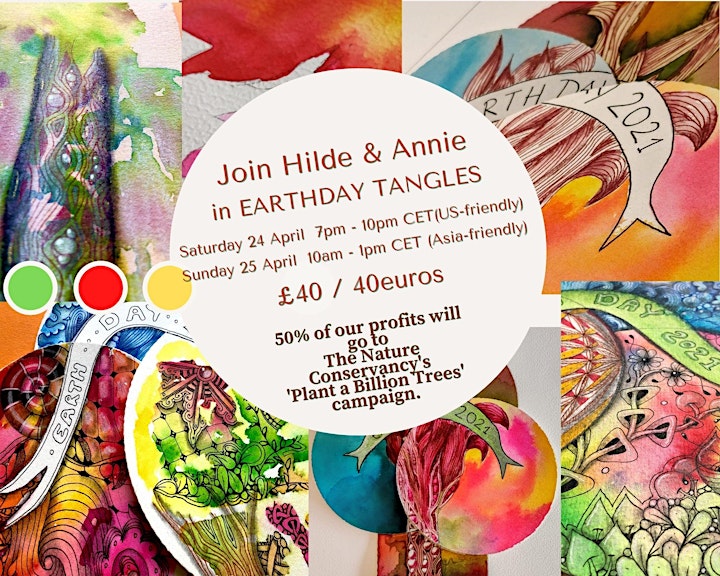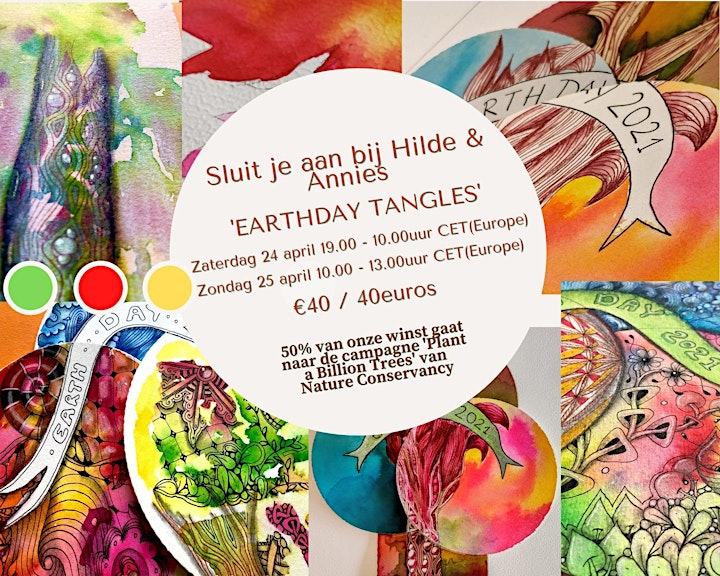 Datum en tijd
Locatie
Restitutiebeleid
Restituties tot 30 dagen voor evenement