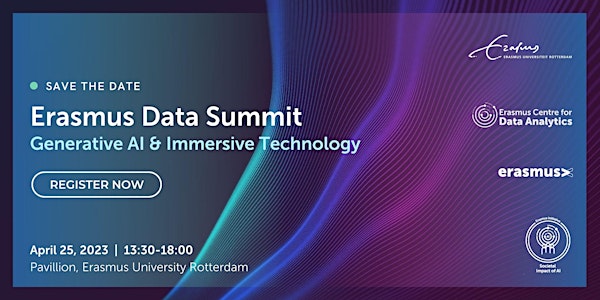 Erasmus Data Summit
Generative AI and Immersive Technology. Where do we go from here?
Door Erasmus Centre for Data Analytics (ECDA)
Datum en tijd
di. 25 apr. 2023 13:30 - 18:00 CEST
Locatie
Erasmus University Rotterdam, Erasmus Pavilion 50 Burgemeester Oudlaan 3062 PA Rotterdam Netherlands
Over dit evenement
Join us Tuesday, April 25 from 13:30-18:00hrs at the Erasmus Pavilion in Rotterdam.
Through keynotes and lively fireside chats we aim to create a comprehensive understanding on the current landscape of Generative AI and Immersive Technology. Topics will cover the impact on the future of education, work, art, and health with relevant examples from leading experts in the field.
Gain hands-on experience at the Immersive Tech Fair.
Over de organisator
Erasmus Centre for Data Analytics (ECDA):
Facilitates multi-disciplinary research and innovation based on 16 expert practices on data analytics and AI
Offers infrastructure for data, analytics and AI in collaboration with tech partners
Facilitates hands-on education to students and executives;
Organizes top class-exclusive events, seminars and summits
Offers a learning community among public and private organizations, academia and students