Dit evenement is afgelopen.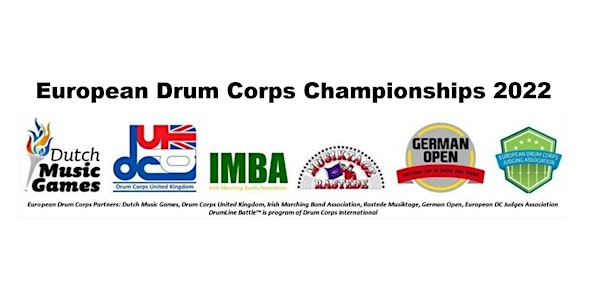 European Drum Corps Championships 2022
After two seasons of absence due to the pandemic, the European Drum Corps Championships are back with 13 corps in competition!
Waar en wanneer
Locatie
FC Dordrecht 210 Krommedijk 3312 LH Dordrecht Netherlands
Kaart en routebeschrijving
Beleid voor refunds
Neem contact op met de organisator om een restitutie aan te vragen.
Eventbrite-kosten zijn niet restitueerbaar.
Over dit evenement
The European Drum Corps Partners (DMG, DCUK, IMBA, Rasteder Musiktage, German Open and the European DC Judges Association) decided to join forces and bring the European Championships back to the field at the FC Dordrecht stadium in Dordrecht, The Netherlands, on Saturday September 24.
With the reduced number of active corps this year, this venue is one that is seen as a bridge between the COVID period and a hopefully better (and full) season in 2023 and so whilst not as large as previous years is a tried and trusted venue which has been the home of the Dutch Championships for many years.
A total of 13 corps from The Netherlands, Germany, England, Ireland and France have registered to participate in this year's season finale. Corps will compete in Premier Class, Junior Class and Concert Class. In addition, a DrumLine Battle event (in association with Drum Corps International) is run at the conclusion of the afternoon's programme.
Prelims for Concert Class and Premier Class will start at 12:00 pm (noon), followed by Junior Class Finals. Concert Class and Premier Class Finals will commence at 6:15 pm, followed by a full retreat at approximately 9:40 pm.
Tickets are €17,50 each (plus € 1,02 service-/administration costs) - that is less than € 1 per performance!
Please note: Tickets for this year's European Championships will be General Admission, so tickets are NOT for allocated numbered seats. The earlier you arrive, the better choice of seat you will get!
Stadium rules DO NOT ALLOW spectators to bring any food or drinks from outside into the stadium premises. Food and drinks will be available from the concession stands. All bags are subject to search by the stadium stewards and/or event staff.
We are looking forward to welcoming you to the European Drum Corps Championships 2022!
For more information and the tentative performance schedule: see www.dceurope.org or one of the partners' Facebook pages.
on behalf of the European Drum Corps Partners,
Hans Kloppert, European Drum Corps Championships 2022 event host
IN COMPETITION:
Premier Class
Jubal (NL)
Jong Holland (NL)
Beeches (UK)
Inbhear Mor (IRL)
Blue Diamonds (D)
Junior Class
Youngstars (D)
Jong Jubal (NL)
Jong Beatrix (NL)
Concert Class
Spirit of 52 (D)
Storman Magic (D)
Drum & Brass Corps Kriftel (D)
Beatrix'(NL)
Blue Océane (F)
DrumLineBattle
North Frisian Percussion Corps (NL)
Spirit of 52 (D)
Jubal (NL)
....