Dit evenement is afgelopen.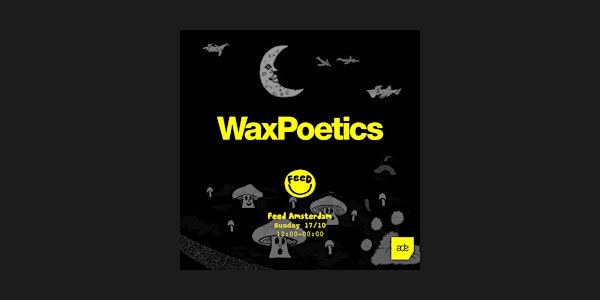 Feed ADE Sunday meets Wax Poetics
Feed ADE Sunday meets Wax Poetics, bringing a day of great selections by Coco Maria, Palo Santo Discos, Wall of Flowers, Arie Bremselaar
Waar en wanneer
Locatie
Feed Amsterdam 206 Wibautstraat 1091 GS Amsterdam Netherlands
Kaart en routebeschrijving
Beleid voor refunds
Restituties tot 7 dagen voor evenement
Eventbrite-kosten zijn niet restitueerbaar.
Over dit evenement
12:00 Warming up the decks and setting the tone for the day is Feed resident and programmer DJ Rick's Music Service, who breaks away from the conventional categorization of music to focus on the interconnectedness of rhythmic energies.
14:00 Wax Poetics brings together two of Amsterdam's deepest selectors for a very special ADE afternoon.
Coco Maria is one of the most unique and uncompromising DJs in the world: a selector, curator and regular on Worldwide FM. She specializes in Brazilian, South-, Central-American, and Caribbean wax. Expect irresistible slices of jazz, samba, cumbia, and all sorts of rarities from sunnier, far-off places.
Palo Santo Discos has 15 years of digging Bossa, Samba Cancao, Jazz, Carimbo and more. He introduces Brazilian music all over Europe, and creates a melting pot of influences on dance floors.
They'll be playing together from 14:00 to 18:00 so be sure to get down early!
18:00 Feed also invites the faces behind Wall of Flowers - comprised of Jimmy Rouge and Marma Boog, who have been slowly shaping things out for their new label with a few releases on route. Carving a different path from their previous projects; Orange Tree Edits and Pond Life Records, Wall of Flowers brings nature's best Balearic trance, UK street soul rhythms and wildlife grooves.
22:00 Closing the day is Arie Bremselaar. His intriguing electronic sound, with influences that vary from techno, to electro/breaks, to house and back, will be perfect to end the evening with. It is this sound that turns every one of his DJ-sets into a unique experience.