Dit evenement is afgelopen.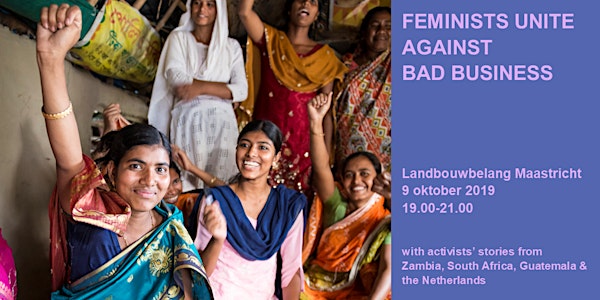 Feminists unite against bad business!
Join our activist storytelling event!
Waar en wanneer
Locatie
C.V. Landbouwbelang 3 Biesenwal 6211 AD Maastricht Netherlands
Kaart en routebeschrijving
Over dit evenement
Have you ever faced injustice where your livelihood was under attack? Do you feel you have the power to fight for your rights?
These are daily topics for feminist activists fighting unbridled corporate power around the world. Activists from Zambia, South Africa, Guatemala and the Netherlands will share their stories of uniting against bad business practice which is destroying their communities, the environment and often hitting women hardest. But fear not! These activists also have solutions to the bad business problem and will ask you to join their fight. YOU will be taken on an interactive journey, together examining power through our supply chains and invited to unite and join the fight.
For more information check out www.actionaid.nl/verdrag