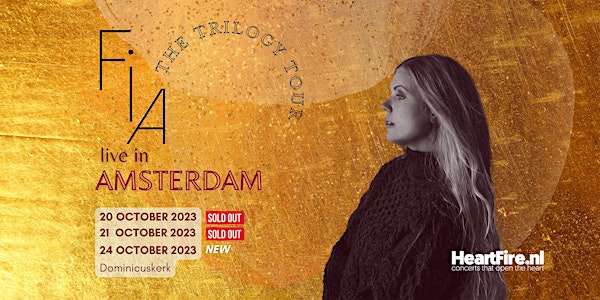 FIA :: The Trilogy Tour - Live in Amsterdam :: Extra Concert October 24th
FIA returns to Amsterdam with songs from her acclaimed album trilogy in the marvellous ambience of the Dominicuskerk in Amsterdam.
Datum en tijd
Begint op di. 24 okt. 2023 20:00 CEST.
Locatie
Dominicuskerk Spuistraat 12 1012 TS Amsterdam Netherlands
Beleid voor refunds
Geen refunds
Over dit evenement
2 uren 30 minuten

ALLE LEEFTIJDEN

eTicket voor mobiel
HeartFire presents
FIA :: The Trilogy Tour - Live in Amsterdam :: EXTRA Concert October 24th @Dominicuskerk Amsterdam
We are excited to welcome singer/songwriter FIA back to Amsterdam! On October 20th & October 21st & October 24th FIA takes the stage in the marvellous Dominicuskerk in Amsterdam for her Trilogy Tour.
With her inspirational lyrics and catchy melodies, Fia has a unique way of weaving music that empowers the listener to drop deeper into themselves and find their own medicine. Since the release of her debut album Fia has been touring world wide and continues to touch hearts wherever she goes and it is with joy she welcomes us into her mystical sphere, devoted to reminding us of our magic.
Ticket sales for October 24th starts Sunday March 26th @10.00 AM (CET).
Join us in live, love & music.
Practical Information
Check all the practical information on the eventpage on our website, here.
More info on Fia, here. Listen to Fia on Spotify, here.
Organized by HeartFire.
Join the HeartFire Community
Join our growing community and stay informed about our HeartFire events. Subscribe to our newsletter, like our HeartFire page on Facebook and/or on Instagram. Follow us on Eventbrite to get notified when we publish new events, here. You can also follow us on Spotify to listen to playlists we create, here.
Check out our other concerts on our eventpage, here.