Dit evenement is afgelopen.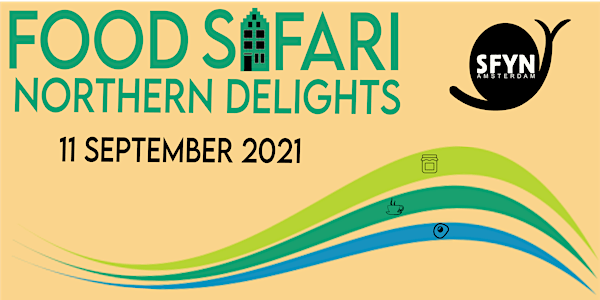 FOOD SAFARI - Northern Delights
On 11 of September join us for a delightful afternoon full good food, amazing stories and tips of how to reduce food waste.
Datum en tijd
za. 11 sep. 2021 11:45 - 17:00 CEST
Locatie
Amsterdam-Noord Tolhuisweg 4 1031CL Amsterdam Netherlands
Beleid voor refunds
Neem contact op met de organisator om een restitutie aan te vragen.
Eventbrite-kosten zijn niet restitueerbaar.
Over dit evenement
SFYN Amsterdam presents
Food Safari Northern Delights
We are excited to introduce to you a new edition of our populair Food Safari series. This time we go to discover delightful foodie places in Amsterdam Noord.
During a Food Safari we take you into kitchens and restaurants across the chosen district where we meet with local owners and enjoy delicious meals.
On Saturday 11th of September we will roam the streets of lovely Amsterdam Noord. Vegan, vegetarian or meat lover? We have you covered! Each location is well equipped for your needs.
Special about this edition is that we will focus on the topic of food waste. Where we will go remains a secret, but we can tell you that all the places you will visit have amazing food, drinks and inspirational stories.
Starting location will be Tolhuisweg 4, 1031 CL Amsterdam at the
Practicalities
The tour will take around 4 hours. Providing for an afternoon full of food, exploration and inspiration.
During this corona-proof edition, we will not meet in one large group, but we will gather in groups of 15 people max. Each group will be led by a SFYN board member.
There are 2 different teams according to your time preferences:
Team Alpha will start at 11:45.
Team Beta will start at 12:45.
Amsterdam Noord is huge! The tour will therefore be done on bike.
So take your bike on that 5 minute ferry ride. We welcome you on the other side!
Last but not least
We have special gifts for you. Please send us an email with your t-shirt size by 8th of September at amsterdam@sfyn.nl.
For questions or inquiries about the event please find us on Instagram (@sfyn_amsterdam) or send us an email at amsterdam@sfyn.nl
Over de organisator
SFYN Amsterdam is een regio-organisatie van Slow Food Youth Movement Nederland. 
Slow Food Youth Network (SFYN) is een internationale jongerenbeweging die zich inzet voor een good, clean & fair voedselsysteem. Voedsel heeft namelijk meer impact dat je denkt: het heeft raakvlakken met vrijwel alle maatschappelijke en ecologische uitdagingen van deze tijd. Als onderdeel van het internationale Slow Food netwerk willen wij lekker eten dat zo duurzaam mogelijk geproduceerd wordt en waarvoor de boer een eerlijke prijs krijgt.
SFYN gelooft dat wij, als jongeren, een belangrijke rol moeten spelen in de toekomst van de voedselproductie en -consumptie. Daarom brengen we jonge consumenten, producenten, boeren, koks en studenten dichter bij elkaar. Dit doen we door middel van eat-ins, proeverijen, lezeingen en evenementen zoals World Disco Soup Day.