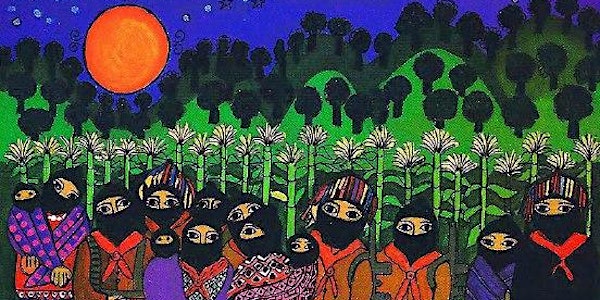 Food Sovereignty in Zapatista territories - with the Zapatistas!
Locatie
Casco Art Institute: Working for the Commons
7 Lange Nieuwstraat
3512 PA Utrecht
Netherlands
Food Sovereignty in Zapatista territories: an exchange of stories and practices
Over dit evenement
During this afternoon the Zapatista delegation shares their stories, practices and knowledges about how food sovereignty is organised in their territories. We discuss a diversity of related topics, such as seed commodification and access to land, and through this reflect on the organisation of our food systems. With various local initiatives and collectives also represented, we will exchange experiences of struggle and empowerment through food sovereignty.
---
Taste Before You Waste (TBYW)
Radical, independent and horizontally led initiative which aims to raise awareness about the problem of food waste at production and consumer levels, and actively work on reducing waste on a local level. https://tbywutrecht.wordpress.com
Casco Art Institute: Working for the Commons
Working for the Commons envisions better ways of living together through practicing art and the commons. Through co-exploration and study with collective art projects as well as organizational experiments, our projects grow from critical questions and radical imagination – forming community and together generating art and knowledge as common resources. https://casco.art/ and Casco Art Institute (@whereiscasco)
Food Autonomy Festival Utrecht (FAF Utrecht)
A yearly festival organized by ASEED Europe. During FAF, people involved in food autonomy present alternatives and resistance to the state and corporate-controlled industrial food system. This year, the FAF was organised in three cities: Amsterdam, Wageningen and Utrecht.
The Barricade
The Barricade is a volunteer-run collective inspired by raccoons and anarchism. Every Sunday from 4pm to 11pm we do what we can to oppose this capitalist society we live in by being open as a social space with a public library and an anti-foodwaste kitchen. The Barricade – Utrecht | A collective inspired by Raccoons and Anarchism (https://thebarricade.noblogs.org/)
---
Casco Art Institute: Casco is not currently wheelchair accessible. There is a bathroom in the office which is gender neutral and a (small) single stall. There is a somewhat larger, gender neutral single stall bathroom on the first floor of our building.
For those visiting the headquarters of Casco in Utrecht for the first time in Utrecht, we are located within Abraham Dolehof in the museum quarter of Utrecht's historic city center. From Utrecht Centraal station, you can come by foot, bike, or by Bus 2, which takes between 10-20 minutes.