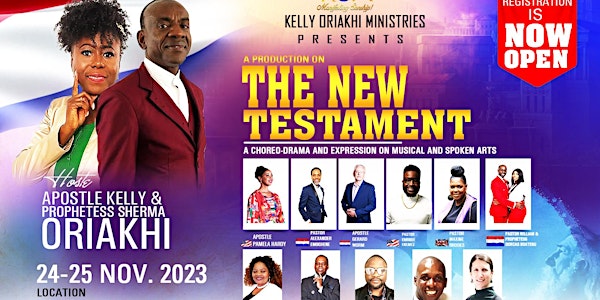 Friday 24 Nov: A Production on The New Testament
The New Testament was all about the birth of the Saviour Jesus Christ, His ministry and his assignment before departing back to the Father.
Door Stichting Kelly Oriakhi Ministries
Datum en tijd
vr. 24 nov. 2023 17:00 - 22:00 CET
Locatie
Schepenbergweg 15 Schepenbergweg 15 1105 AS Amsterdam Netherlands
Beleid voor refunds
Neem contact op met de organisator om een restitutie aan te vragen.
Eventbrite-kosten zijn niet restitueerbaar.
Over dit evenement
5 uren

eTicket voor mobiel
The New Testament was all about the birth of the Saviour Jesus Christ, His ministry and his assignment before departing back to the Father. He left the Holy Spirit here on earth and the church was birthed. The New Testament starts with Matthew and ends with Revelation. In this production The New Testament comes alive through the songs, drama, music, dance and spoke words. With the intention to understand and read the bible each time with a different glass and see what you can learn and unlearn. Each chapter teaches us something new about God's plan and purpose for man and how to come back to him.
This year production we are pressing on with wonderful vessels of God from over 20 churches and several countries. Several vessels of God united as one bringing alive the NEW Testament. During the production the Word of God will come alive through the Spoken Word, drama, dance, mime and songs. These are all gifts given to the body of Christ to bring the Good News.
 Stage Manager: Dr Ade (UK)
 Dance Team: Apostle Pamela Hardy (USA)
 Worship Team: Pastor Maxime Brooks, Birmingham Community Gospel Choir (UK), Coordinator Psalmist Angala. Special featuring Pastor Enrique Holmes from USA.
 Drama Team: Brother Michel Reiziger (NL)
 Spoken Word: Prophetess Sherma Oriakhi, Apostle Kelly Oriakhi, Pastor William Boateng, Prophetess Dorcas Boateng, Apostle Gerard Worm, Pastor Alexander Emogehe,, Pastor Mariana Vanstipelen, Pastor Elroy George, sister Madelon Grant
On Friday before the production diner will be served and Saturday after the production a take a way box.
Diner is included in fee for both days!
Agenda
5:00 PM - 9:11 PM
Fri. 24 Nov: A Production on The Old Testament
Over de organisator
Kelly Oriakhi Ministries (KOM) is not a church nor a denomination, but a field ministry that is mandated by God to equip His children for maximum living and excellence in ministry. We are "on the–go" after the order of the Chief Commissioner and Commander-in-Chief, Jesus Christ. "How God anointed Jesus of Nazareth with Holy Ghost and power, who went about doing good, and healing all that were oppressed of the devil; for God was with him" ( Acts 10: 38). 
We trust God to reach our goal through these channels:
►Organizing impact seminars and summits!
►Organizing life empowerment conferences!
►Organizing leadership training programs!
►Teaching in churches based on invitation!
►Circulation of journals and newsletters!
►Radio, television and satellite broadcast!
►Kingdom empowerment school system!
►Offering humanitarian services to meet the physical needs of the less privileged around the globe!
Therefore, as we work this vision:
►The unlearned will be provoked to learn!
►The fool will be challenged to gain wisdom!
►The simple hearted will be stimulated to wise up!
►The wise will be propelled to get wiser!
►The hopeless will regain hope!
►Sinners will become a saints!
►Church members will become disciples!
►Children will become sons of God!
►Sons will become servants!
►Followers will become leaders!
►Leaders will become stewards!