Evenementdetails
Locatie
The Student Hotel Amsterdam West
335 Jan van Galenstraat
1061 AZ Amsterdam
Netherlands
Beleid voor refunds
Neem contact op met de organisator om een restitutie aan te vragen.
Eventbrite-kosten zijn niet restitueerbaar.
Beschrijving van het evenement
The key to grow your business is to create an entrepreneurial growth-mindset. Your business will only grow when you do - Bwerani Alvares
Over dit evenement
On saturday the 16th of November, Motivated Minds presents the From startup to scale-up event at The Student Hotel Amsterdam West.
Many start-up companies have many growing pains. One of the most common growing pains is the activity trap or the business trap. The processes and structures that gave your business idea life do not longer support the business growth or even worse, the processes and structures deviate so much from the desired goal that your bussiness is just busy but no longer effective and certainly not efficient.
And a pile of daily work and stress remains untill there is no more room left for vision of a strategy.
Which means you aren't getting the outcomes you need to take the next step.
But in order to grow and expand your business, vision is the number one thing you should make room for. Thats why its so important to use your startup fase correctly, because the startup phase is all about discovering what direction your company should take before you dive into the next fase: The ramp up fase.
What will you discover
Your bussines/activity trap - and how you can resolve it
What your business needs to do and have to leave in order to outgrow the startup fase
Validating and future-proofing your product or service so you can impact more
How your mindset an personal values effect your business
How good leadership let your business thrive
How public relations helps your business to get more media attention, more customers and more key partners
How you can easily connect with and learn from other entrepreneurs and experts who can help your business grow
And how you should manage it all so you can take the next step without falling back into your activity trap
You will work with business models that will help you
Create your USP
Validate your product or service
Create your personal & business vision
Discover your why and how to monotize it
Creating a clear and strategic overview of your business
At this event two great guest speakers will be attending
Jennifer Delano
Jennifer Delano explains which 7 steps your big compaters took and you should take to generate (more)media attention. Jennifer Delano is a Strategic Public Relations Professional who helped starups like Toptaarten and Cabture to expand there business with the right PR strategy. She also won the JCI Internet Award and was in the VIVA400 (list of the most successful women in the Netherlands.)
Alexander Keehnen
Alexander Keehnen is an expert at building "business friendships" and delivering operational excellence. He is the founder of WIN Mastermind, the ultimate business network for purpose-driven entrepreneurs. In his interactive 45-minute presentation, Alexander shows you how to be a powerful networker by giving first, how to grow your company through mission-based strategic partnerships and how to build an extremely successful business by choosing your heart over your mind.
In short
If you are an entrpeneur and your want create a successful and meaningful organization that is ready to think bigger than creating a local or regionally oriented organization and who want answers to questions such as:
How do I get more out of myself?
How do I organize my organization for sustainable and constant growth?
How do I make a clear and strategic plan?
This is the workshop for you!
About Motivated Minds
Motivated Minds inspires with revolutionary events, transformational coaching and world-renewing online services, such as the Meester Je Leven program, that ensure personal growth and reflection.
Our mission is to create a platform where individuals, groups and organizations are given the tools to grow personally and mentally which enables them to create a better environment and world for themselves and future generations.
That is why it is our passion to give people the opportunity to experience happiness and personal growth on a daily basis.
With an inspiring community, where knowledge can be shared and co-creation is encouraged, we set the new standard: bringing together (online) coaching, a library full of information and knowledge about personal development and the possibility of co-creation.
#Everybodydeserveshappiness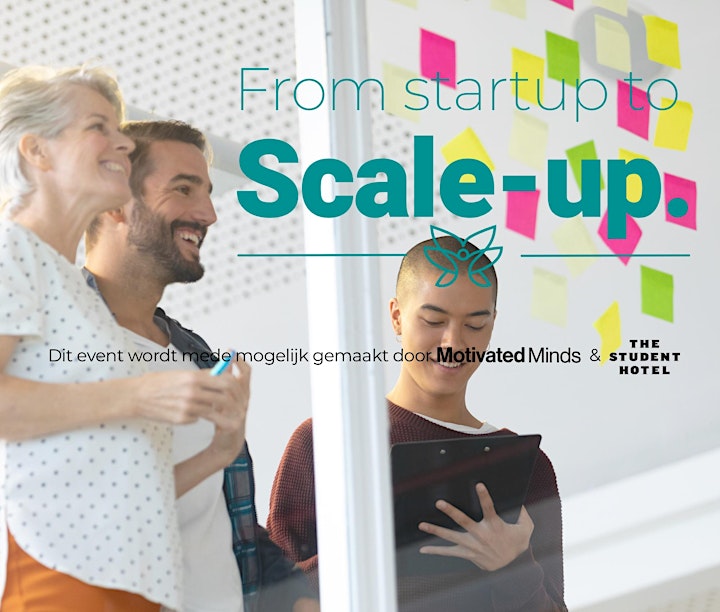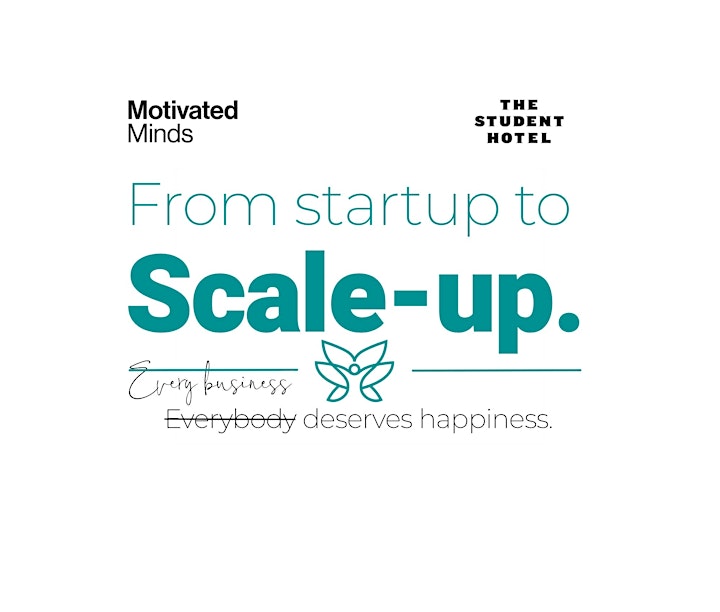 Datum en tijd
Locatie
The Student Hotel Amsterdam West
335 Jan van Galenstraat
1061 AZ Amsterdam
Netherlands
Beleid voor refunds
Neem contact op met de organisator om een restitutie aan te vragen.
Eventbrite-kosten zijn niet restitueerbaar.