Dit evenement is afgelopen.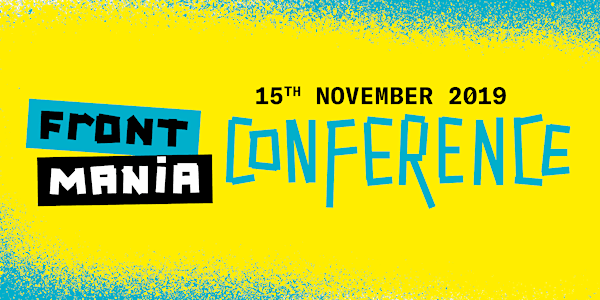 FrontMania Conference 2019
Waar en wanneer
Locatie
Duisenberg Auditorium, Rabobank 18 Croeselaan 3521 CB Utrecht Netherlands
Kaart en routebeschrijving
Beleid voor refunds
Restituties tot 30 dagen voor evenement
Beschrijving


FrontMania Conference
We are thrilled to bring you all kinds of new fun stuff in this year's event.
We will kick off at 8:45 with the opening talk followed by a spectacular keynote from the one and only Seb Lee Delisle.
During the day there will be 2 tracks packed with inspiring technical talks. All filled with amazingly good speakers and talks covering topics from the workings of a browser to node.js on mobile apps.
There even is a talk about how to build your own javascript powered smart glasses (who needs google glass right ).
Here is a small list of some of the hottest topics you can expect at FrontMania conference 2019:
NodeJs on Mobile - Blink browser engine - WebAssembly - Puppeteer - Internet of Things - Cloudflare workers, Dialogflow and many more topics.
We managed to get the Global Leaders in Frontend development to speak at the conference:
Felix Rieseberg slack, Lee Boonstra Developer Advocate Dialogflow at Google, Tal Alter CTO DAV Foundation, Önder Ceylan Google Developer Expert, Katerina Skroumpelou Google Developer Expert, Lucas Fernandes da Costa core member chai.js and sinon.js,
On our website, you will find all the information and a full line-up.
We look forward to welcoming you to FrontMania Conference 2019
Workshop Reactive Programming with Andre Staltz
Come learn the fundamental concepts behind RxJS (or Rx in other languages) and gain confidence programming with reactive Observables. Rx is a cross-platform library for handling asynchronous programming and user interfaces. In this one-day training workshop, Andre Staltz will guide you through lectures and exercises. Expect to see Rx concepts demystified, practice with exercises, make questions, and gain confidence with the tools.
Date: 14 November
PLEASE NOTE THE LOCATION IS: Tractieweg 41 (Studio B)3534 AP Utrecht
Schedule:
2h first session
(1h Lunch)
2h second session
(30min Break)
2h third session
More info: https://www.meetup.com/FrontMania/events/265713158/