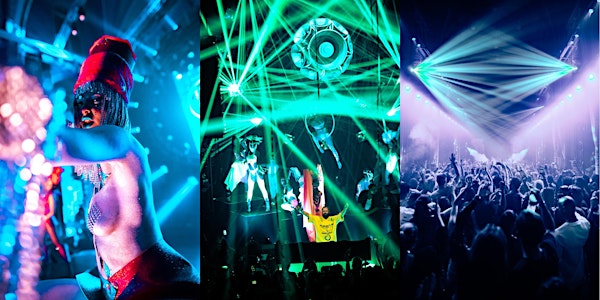 Full Colour Innercircle
AFTER 19 INSANE EDITIONS, IT'S TIME TO RESET THE LEVELS: FULL COLOUR INNERCIRCLE, WE GO TO CHURCH!
Datum en tijd
vr. 13 okt. 2023 21:00 - za. 14 okt. 2023 02:00 CEST
Locatie
DOMUSDELA 4 Kanaalstraat 5611 CT Eindhoven Netherlands
Beleid voor refunds
Neem contact op met de organisator om een restitutie aan te vragen.
Eventbrite-kosten zijn niet restitueerbaar.
Over dit evenement
5 uren

eTicket voor mobiel
After 19 insane editions, we're going for another holy sh*t experience! It's time to reset the levels: Full Colour Innercircle, we go to church!
What was good, became better and we turned the better into something even more special. This is Full Colour Innercircle: A story only we can tell with an exclusive full night set by La Fuente. Tech house music at it's best with a virtually unparalleled energetic stage performance, unique theatrical acts, special effects and the best tech-house music has to offer. Approaching the limits of appropriate and inappropriate in a sophisticated way. It's a story we tell and we invite you to take part in it to experience the vibrancy and to feel the fascinating nature that Full Colour Inner Circle has to offer..
Ready to experience this most colourful, music filled, energetic and exclusive show? Take part in our story here!
DOORS:
21.00 EVENT DOORS OPEN: Walk-in
22.00 EVENT DOORS CLOSE: Event starts (we all start the event together)
02.00 EVENT ENDS
AGE:
21+
DINER: THE LAST SUPPER
Want to start the magic early? Join our exclusive all-in dinner, limited to 100 unique spots, where your Full Colour Innercircle night starts even before the event! We're setting up a table for our "Last Supper" in the chapel at the venue for the few who get to be part of this intimate Innercircle where we get an exclusive early start to the evening!
DOORS:
18.30 WALK-IN EXCLUSIVE DINNER
19.00 EXCLUSIVE DINNER
21.00 END EXCLUSIVE DINNER
IMPORTANT NOTE:
Any allergies or dietary restrictions? Let us know before september 22nd via email: kim@djlafuente.com and we'll take care of it all!
And during the dinner: we'll make sure you have your tickets scanned and you'll be able to get your drink coins before you enter the Full Colour Innercircle!
The Last Supper is provided by the magicians from Victoria by Goyvaerts.
HOTEL: EXTEND THE MAGIC
Want to extend the magic? Use our promo-code: FCIC to book your stay at Marienhage hotel, located inside the Full Colour Innercircle venue!
Book here : Extend The Magic
IN THE NAME OF THE LA FUENTE, THE MUSIC AND THE INNERCIRCLE: AMEN..