Evenementdetails
Locatie
De Randhorst
7 Randweg
4191 NN Geldermalsen
Netherlands
Beleid voor refunds
Neem contact op met de organisator om een restitutie aan te vragen.
Eventbrite-kosten zijn niet restitueerbaar.
Beschrijving van het evenement
Karate seminar. Functional realistic Karate! Infighting, takedowns, devastating lowkicks and much more!
Over dit evenement
The seminar will be postponed until further notice, due to covid 19 restrictions.
A seminar by Paul and Michelle Enfield is much more than just a training experience.
This seminar will leave you with new insights and ideas, no matter how long you've been training and whichever style you practice!
In their mission statement, Paul & Michelle say: "To inspire learning with integrity through education and research; to embrace tradition but not be limited by it".
Paul and Michelle aim specifically for people who ask questions, who are looking for functional karate, who want to approach kata logically and who appreciate Karate tradition, but won't let themselves be bound by it.
Does this sound interesting? They are coming to The Netherlands for the first time ever and you can attend!! Their seminar will be an insightful exploration of technique and application. Founded in Okinawan Karate and applicable for karateka of every style! In this seminar they will take you through theme's like: close combat, connecting drills, devastating low kicks, pad work and much more. In the tradition of karate but without being limited by it.
ABOUT THE TEACHERS
Sensei Paul(8th dan)started his karate career in Oxford, England in 1979. In 1984 he got his black belt. Shortly after that, he travelled to Okinawa to study karate fulltime. For a total of 3 years he stayed in Okinawa and Japan as uchi-deshi. Whilst in Asia he also travelled to Korea, Taiwan and China to further explore the Martial Arts. At the end of 1987 he left for America where he has been teaching since. Paul is fluent in Japanese and translated 3 Martial Arts books from Japanese to English. Paul himself has written numerous articles and published many DVD's. Goju Ryu being the main focus of Paul, he has also studied Tai Chi Chuan, Lau Gar Gung Fu and Brazilian Jiujitsu.
Sensei Michelle (5th dan) started her career in Martial Arts in Krav Maga before continuing in Goju Ryu Karate. She got her black belt in 2004. She too trained on Okinawa as well as all over the world. Her catching energy and attitude are inspiring and make her seminars a very fun experience. Michelle is a Special Olympic Coach and due to her relentless work in the area of Women Empowerment she received the 'Humanitarian of the Year' award in 2019. If not in the dojo Michelle can be found as a Key Note Speaker at events. She's an ambassador for victims of sexual assault. Furthermore she works intensively with nonprofit organizations in the area of karate demonstrations and teambuilding for companies.
THE PROGRAM
Postponed until further notice
Disclaimer
Karate is a contact sport and while the seminar keeps this in mind to minimize the risk, injuries can occur. Registration and participation are at your own risk. The organisation can not be held liable.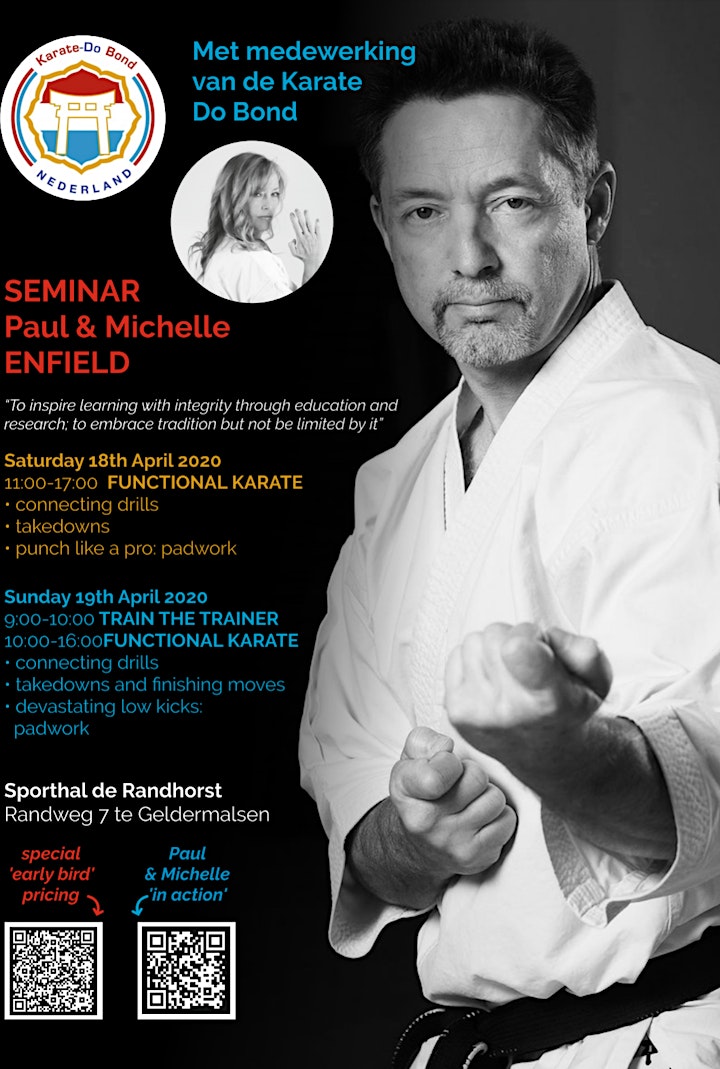 Datum en tijd
Locatie
De Randhorst
7 Randweg
4191 NN Geldermalsen
Netherlands
Beleid voor refunds
Neem contact op met de organisator om een restitutie aan te vragen.
Eventbrite-kosten zijn niet restitueerbaar.