Dit evenement is afgelopen.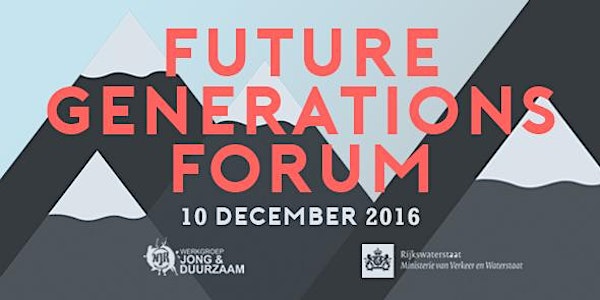 Future Generations Forum
Waar en wanneer
Locatie
LEF Future Center Gebouw Westraven Rijkswaterstaat Griffioenlaan 2 3526 LA Utrecht Netherlands
Kaart en routebeschrijving
Beschrijving
FUTURE GENERATIONS FORUM 2016
FUTURE GENERATIONS FORUM 2016
- VOL! schrijf je in voor de reservelijst via njrjongduurzaam@gmail.com! -
-- For English: see below --

Jong geleerd is oud gedaan. Wat we nu doen heeft impact op de toekomst, maar wat kunnen we nu doen? We laten zien dat duurzame ontwikkeling meer is dan afval scheiden of korter douchen. We bieden een breed programma aan, ons doel is dat iedereen elke ronde wat leert, of je nu al veel af weet van duurzame thema's of niet. Op deze dag zullen jonge changemakers vertellen over hun expertise. Dit varieert van circulaire economie tot klimaatvluchtelingen, en van het zeemilieu tot COP22.

J O N G
In samenwerking met Rijkswaterstaat organiseren wij (NJR Jong en Duurzaam) het Future Generations Forum: een interactief, dagvullend evenement. Deze dag, georganiseerd voor én door jongeren van 12 tot 35 jaar oud, heeft als doel jullie - de generatie van de toekomst - te inspireren om onze samenleving te verduurzamen.

P R O G R A M M A
Tijd Activiteit
10:30-11:00 Inchecken, thee en koffie
11:00-11:30 Plenaire ronde
11:30-12:30 Workshop ronde 1 - Publieke sector
12:30-13:30 Lunchpauze
13:30-14:30 Workshop ronde 2 - Business
14:45-15:45 Pitchronde
16:00-17:00 Workshop ronde 3 - Civil society
17:00-17:30 Plenaire terugkoppeling
17:30-18:00 Borrel (alcoholvrij)

I N H O U D
In het LEF Future Center zullen verschillende duurzame voorbeelden uit bedrijfsleven, politiek, wetenschap en maatschappelijk middenveld zorgen voor lezingen, workshops en discussies. Deze mix zal in elk van de vier rondes terugkomen.
Ook wordt er in elke ronde een sessie speciaal voor middelbare scholieren ingericht. Voor de lunch zal worden gezorgd, we beloven genoeg netwerk mogelijkheden!

Een greep uit ons programma: Faiza Oulahsen (Greenpeace Nederland), Thijs Verheul (United Wardrobe), Bart Vollaard (NewForesight), Ilke Schaart (Universiteit Utrecht), Max van Deursen & Martijn Visser (Jongerenvertegenwoordigers Duurzame Ontwikkeling naar de VN), Lennard Seriese (Beleidsadviseur duurzaamheid, Goeree-Overflakkee), Sophia Bensch (Taste Before You Waste), Jasmijn van den Berg (Love Coin), Adel Albaghdadi (Nederland Cares, vertelt over zijn reis als vluchteling), Susanne Reeg (Academics for Development Utrecht), Nick Steiner (Love Foundation Global).

In de aanloop naar het evenement zullen we steeds meer van het programma bekend maken en een blokkenschema volgt, dus hou de pagina in de gaten!

I N S C H R I J V E N
- VOL! schrijf je in voor de reservelijst via njrjongduurzaam@gmail.com! - Meld je daarom ook af als je wel ingeschreven bent maar onverhoopt toch niet meer kan (of maar een klein deel van de dag), zodat er iemand in je plek kan gaan!
D A T U M / T I J D / L O C A T I E
Wanneer: Zaterdag 10 december vanaf 10:30 tot 18:00 uur.
Waar: Rijkswaterstaat, Griffioenlaan 2, Utrecht.

B E R E I K B A A R H E I D
Het LEF Future Center bevindt zich bij Rijkswaterstaat.
Met de (OV) fiets 20 minuten vanaf Utrecht centrum.
Te bereiken met het OV vanaf Utrecht CS: bus 77 of sneltram 60.
Niet uit Utrecht? Milieuvriendelijkste keuze is met de trein. (check hiervoor bijvoorbeeld NS groepsretour). Toch met de auto? Overweeg dan carpoolen (via bijvoorbeeld blablacar, of post een oproep op de eventpagina om mensen te zoeken om de auto te vullen).

V R A G E N / I N F O
Heb jij nog vragen of wil je meer weten over de organisatoren van FGF 2016?
NJR Jong en Duurzaam
Website: http://www.jongenduurzaam.nl/
Facebook: NJR Jong en Duurzaam
Instagram: jongduurzaam
Email: njrjongduurzaam@gmail.com

Rijkswaterstaat
Website: rijkswaterstaat.nl

------------------------------------------------------------------------------------------
ENGLISH VERSION

What we are doing now, and what we have done in the past obviously have an impact on our future. How can we change the path we have been on for so long? On the 10th of December we will show that sustainable development is more than recycling, taking short showers and replacing your lightbulbs. Our goal is that in every round, whether it's a workshop or a lecture, you will learn something about sustainbility - regardless of your knowledge in this field! We hope to inspire you to contribute to a more sustainable future.

P R O G R A M
Starting at 11am, there will be multiple workshops and lectures. These will be covering politics, business, science, NGOs and activism (among others). A free lunch is provided and we will round off the day at around 6pm with some drinks. Although the plenary sessions will be Dutch-spoken, the majority of the day is composed of three rounds of break-out sessions. Amongst these, a number of English-spoken options are available, including Ilke Schaart (Utrecht University), Sophia Bensch (Taste Before You Waste), Adel Albaghdadi (Nederland Cares, will tell about his story as refugee), Nick Steiner (Love Foundation Global).

T I C K E T S
Sold out! You can register for the waiting list by sending an e-mail to njrjongduurzaam@gmail.com. If you did register, but are unable to come for an unforseen reason, please cancel your reservation so that somebody can come in your place!

D A T E / T I M E / L O C A T I O N
When? Saturday December 10th, from 10.30 AM until 6 PM.
Where? Rijkswaterstaat, Griffioenlaan 2, Utrecht.
You can get there easily by tram. You could also opt for a 20 minute bike ride from the center of Utrecht.

I N F O R M A T I O N
If you have any questions regarding the event, please don't hesitate to contact us either through facebook, mail or instagram.
Facebook: NJR Jong en Duurzaam
Website: http://www.jongenduurzaam.nl/
E-mail: njrjongduurzaam@gmail.com
Instagram: jongduurzaam (follow us!)