Dit evenement is afgelopen.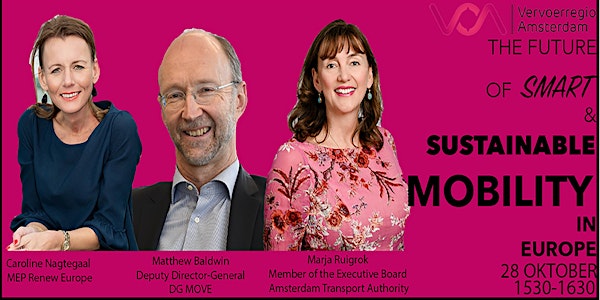 FUTURE OF SMART AND SUSTAINABLE MOBILITY IN EUROPE
Join us for a conversation about the design of a future-proof European strategy for sustainable and smart mobility`!
Over dit evenement
European transport and mobility play a vital role in the everyday lives of people and businesses. At the same time there are considerable challenges. Climate change, digitisation and the Corona-crisis demand a future-proof European approach.
The European Commission announced a Strategy for a Sustainable and Smart Mobility was announced as part of the European Green Deal, and this is scheduled for release before the end of 2020.
During this unique event we will discuss how we can design a European transport policy that meets the challenges of climate change, while at the same time reaping the benefits of digitisation.
Speakers include:
Caroline Nagtegaal - Renew Europe MEP
Matthew Baldwin - Deputy Director-General, DG MOVE, European Commission
Marja Ruigrok - Member Executive Board, Vervoerregio Amsterdam (Amsterdam Transport Authority)