Dit evenement is afgelopen.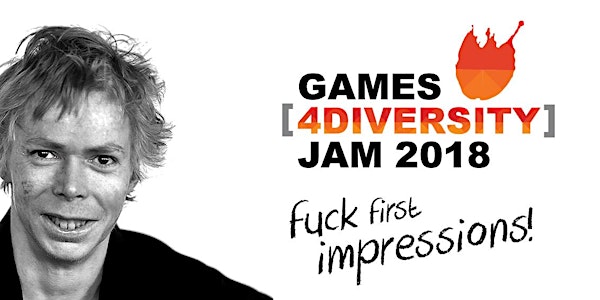 Games [4Diversity] Jam 2018: Fuck First Impressions!
Waar en wanneer
Locatie
The Fifth Neude 5 Utrecht Netherlands
Kaart en routebeschrijving
Beleid voor refunds
Geen refunds
Beschrijving
Games [4Diversity] is organizing a game jam around the theme Fuck First Impressions. On November 3 & 4, you're invited to join us in creating games with and for people with skin diseases and other visible disabilities.
We aim to improve the representation and inclusion of this socio-cultural minority. In just 32 hours, we create playable prototypes and present the games at the EBor Awards on Sunday November 4th at the Winkel van Sinkel, Utrecht, The Netherlands. Games [4Diversity] is working together with the EBor Foundation to make this happen!
Price: €35, including drinks, 1x breakfast, 1x lunch, 1x dinner & a showcase spot at the EBor Awards
Theme: Fuck First Impressions, more info here
Support us
As a non-profit organization, we need your help to make this happen. Please consider making a donation so we can keep organizing events like this in the future!