Dit evenement is afgelopen.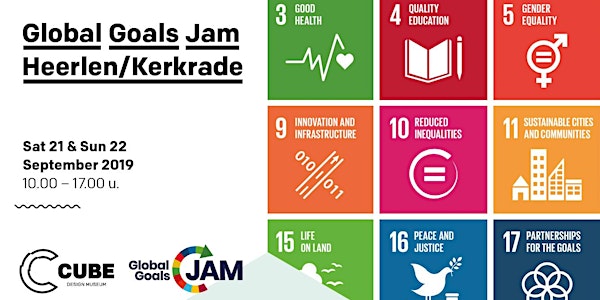 Global Goals Jam Heerlen/Kerkrade
Waar en wanneer
Locatie
Cube design museum Museumplein 2 6461 MA Kerkrade Netherlands
Kaart en routebeschrijving
Beleid voor refunds
Geen refunds
Beschrijving
Are you looking for a fun, challenging weekend to boost your creativity? Do you have a passion for solving social challenges to improve lives? Do you want to be part of an interdisciplinary team which helps achieve the Sustainable Development Goals? Join us in the third edition of the #GlobalGoalsJam in the Heerlen/Kerkrade region! You are invited to expand your network, learn about and utilise Design Thinking methods & develop and share your ideas in real-time with other participants from across the globe!
You will work in small teams of designers, developers and representatives of businesses on developing local activities aimed at serving the sustainable development goals (SDGs). The Heerlen/Kerkrade Jam will address sustainable development for people and planet (SDG 11, sustainable cities and communities). This SDG is chosen because the Heerlen/Kerkrade region has suffered from the implosion of industry in the late 1960s and early 1970s. It still struggles with higher-than-average rate of shrinkage, unemployment and illiteracy. During the jam you will focus on quality of life in an aging society.

Do you want to be part of this global community? Join our jam and create sustainable impact for Global Goals! Reach out to us on Facebook for more information on sponsorships and other opportunities to support the jam.
Practical information:
Tickets cost 10 euros (a lunch is included in the ticket fee).

The Heerlen/Kerkrade jam takes place on 20 September (10-17h) & 21 September (10-17h). When registering, participation on both days is required.

This event is English spoken.

More information: https://globalgoalsjam.org/event/heerlen/.