Evenementdetails
Locatie
Broedplaats Bogotá
Haarlemmerstraatweg 79
1165 MK Halfweg
Netherlands
Beschrijving van het evenement
Beschrijving
Dear Dutch, Belgium and Luxembourg crypto or blockchain/DLT related company or professional,
I am honoured to invite you to the Grand Opening of Priority Token Office Amsterdam.
Priority Token is a company that helps crypto and blockchain organizations to make succesful steps with their projects. Whether it concerns legal support, tokenisation from scratch, investment consulting or auditing for you ICO or STO project or with the fact that you want to conquer certain markets, such as the Asian market or you are looking for investors anywhere in the world...
With offices in London, Moscow, Seoul, Singapore I am proud to partner with them and let them land here in my office in Amsterdam and area (Halfweg). As Manager Director of Priority Token Office Amsterdam we are opening the doors at March 7th and you are most welcome to join us at this event.
Please RSVP by signing up for a (free of charge) ticket and join us at the Grand Opening!
And...there is more! On top of this....you, as a crypto slash blockchain based company/start up/project can be nominated for the Priority Express Audit & Investment Award!
How? Two ways:
1) You may be contacted.
2) Or...be bold and brave and just contact us and tell us why your organisation or project should be nominated.

What can you win?

YOU CAN WIN THE AUDIT & INVESTMENT EXPRESS PACKAGE WORTH: $ 20.000!!
The package concludes the following:

1. An auditing of your project's documentation. Output: guidelines and recommendations to improve the documentation for the project, like white paper, One Pager, Pitch Deck and website!
2. The validating of the documents with the crypto community and partner investors!
3. The arrangement of 5 private (1 on 1) investor events/meetups organized by Priority Token all over the world!!
4. The development of road show plan for investors and blockchain community (outlining specific events and budget for them).

Do you want to be nominated for the Priority Token Audit & Investment Award?
Mail us: marcel@ptoken.io with a strong motivation why your project should be the winner of the award.
We will reply and tell you if your company/project is nominated.

The conditions to be nominated:

Company or project :
- should be established/founded in BENELUX (Belgium, Netherlands or Luxembourg)
- is Crypto or blockchain related
- is able to be audited
- has the need for funding/investors or the need for new markets
- is present at the Opening event March 7th

For more info: https://www.linkedin.com/feed/update/urn:li:activity:6500368334394048512/
or mail us: marcel@ptoken.io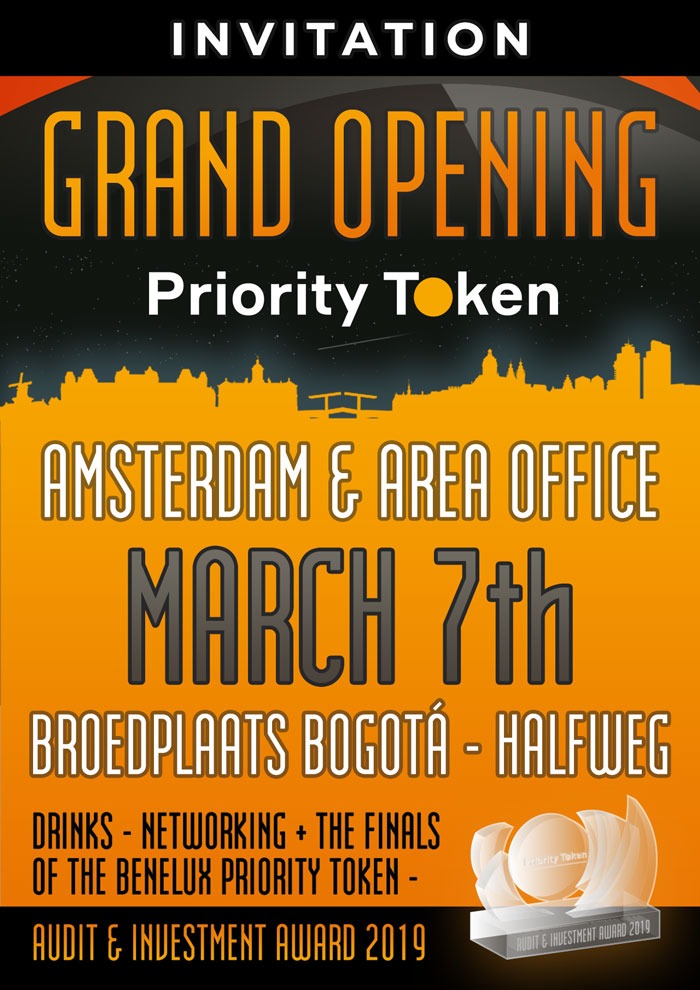 If you don't want to participate in the contest and you just want to join the Grand Opening?
Please RSVP and sign up for the (free) ticket and drinks!
We'll see each other at the Opening!
Kind regards,
Marcel Ott
Managing Director Priority Token Amsterdam
Web: www.ptoken.io
Mail: marcel@ptoken.io

Datum en tijd
Locatie
Broedplaats Bogotá
Haarlemmerstraatweg 79
1165 MK Halfweg
Netherlands