Dit evenement is afgelopen.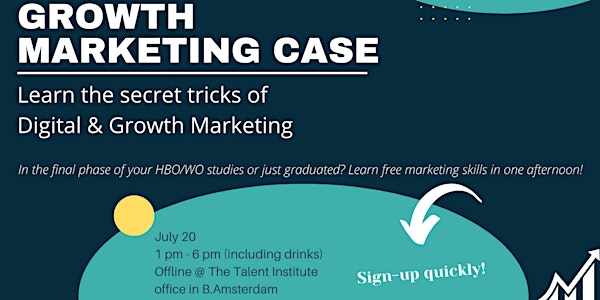 Growth Marketing Case
Leer de secret tricks van Growth Marketing
Waar en wanneer
Locatie
The Talent Institute B. Building 1. 763A Johan Huizingalaan 1066 VH Amsterdam Netherlands
Kaart en routebeschrijving
Over dit evenement
Zit jij in de laatste fase van je studie of ben je net afgestudeerd en weet je nog niet precies wat je volgende stap gaat worden? Lijkt marketing je interessant, maar kan je er nog maar moeilijk een beeld bij schetsen? Kom dan naar onze case middag. Een super leuke inspirerende dag waarmee je samen met andere studenten de secret tricks van Digital/Growth Marketing leert en gaat toepassen.
Wat leer je?
Door middel van een typische Growth Marketing case en video's maak jij kennis met de wereld van marketing. Je past direct de theorie toe en komt er dus snel achter of jij affiniteit hebt met marketing. Tijdens de case ga je aan de slag met een opdracht voor een startup.
Hoe ziet deze middag eruit?
13:00 uur: Ontvangst & rondleiding
13:30 uur: Welkomstwoord + intro TTI
14:00 uur: Uitleg GH case/workshop
14:45 uur: Case/workshop (incl. presentaties)
16:30 uur: Break
16:45 uur: Uitreiking winning presentatie
17:00 uur: Borrel
Over TTI
The Talent Institute is een snel groeiende scale-up met als missie het opleiden van een nieuwe generatie digitaal talent. Wij helpen snelgroeiende bedrijven zoals Rituals, Qwic, Boldking en Parkmobile met het aantrekken en opleiden van talent. Dit doen wij door middel van onze eigen talent ontwikkel programma's volledig gericht op digitale rollen zoals Growth Marketing, Innovatie & design. Daarnaast helpen wij graag talent met het kickstarten van hun carrière.
Meld je snel aan want vol = vol!
Lijkt het je erg interessant, maar ben je helaas verhinderd? Meld je dan aan voor ons online info event: https://www.eventbrite.nl/e/tickets-online-info-event-06-07-2022-growth-hacking-traineeship-tti-339395379717
Heb je vragen? Mail dan even naar ellouise@thetalentinstitute.nl of bel +31630260834.
Hopelijk zien we je de 20e! 🎉