Dit evenement is afgelopen.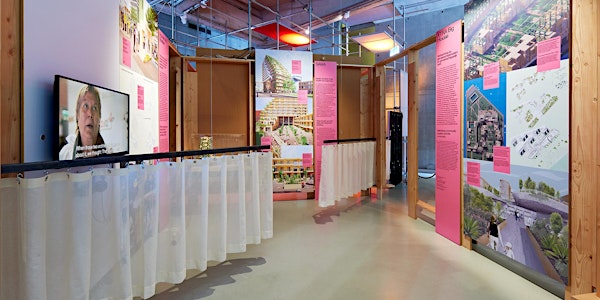 Guided tour of main exhibition (T)Huis (House/Home) by Namelok
Locatie
Het Nieuwe Instituut
25 Museumpark
3015 CB Rotterdam
Netherlands
In this guided tour, the designer of the RA Maand main exhibition, Namelok, takes you into the story of (T)Huis (Home/House)
Over dit evenement
In this guided tour, the designer of the RA Maand main exhibition, Namelok, takes you into the story of (T)Huis. What are the underlying thoughts behind the chosen projects? How does the design of the exhibition connect to its content? What storylines can be discovered? Namelok takes you along in their design process on Monday 6, Saturday 11, Sunday 12 and Sunday 26 June. Of course, there will also be an opportunity to ask questions.
(T)Huis (Home/House)
The housing crisis is one of the biggest building challenges of the moment. From Het Podium, on top of The New Institute, we can see the urban growth passing by. But what can we not see? Does this overwhelming panorama of the city reflect our (T)Huis (Home/House), or is it taking place on the ground, at eye level? (T)Huis (Home/House) means feeling connected to your street, your neighbourhood, your city. A living environment that is currently under pressure. Solutions and opportunities seem far away, but come closer in the exhibition (T)Huis (Home/House) with over 40 innovative plans and designs by architects, makers, students and innovators. Visit the exhibition and Het Podium free of charge during Rotterdam Architecture Month in the Festival Centre, in and at The New Institute.
About Namelok
Namelok is a research-based, reflective design practice in Rotterdam. Founders Wiegert Ambagts and Kaj van Boheemen work with the team of multidisciplinary designers on projects and research in the full breadth of the architectural discipline. They see it as one of the most important challenges for contemporary architects to (re)relate to the world in which, and for whom, they design. "It is time for architects to break away from the nostalgic vision of traditional master builders and stop looking inwards in search of the essence of architecture; instead, we need to look forward and outwards, in search of countless possibilities offered by other disciplines and practices." Inspired by collages, drawings, models, diagrams, photographs, videos and texts, Namelok creates new stories within their designs. These stories can be literal, associative and symbolic; in all cases our crucial question is which story is being told, and why.
Practical info
The tour takes about 45 minutes. Meet at the entrance of the exhibition, Gallery 0 in The New Institute.