Dit evenement is afgelopen.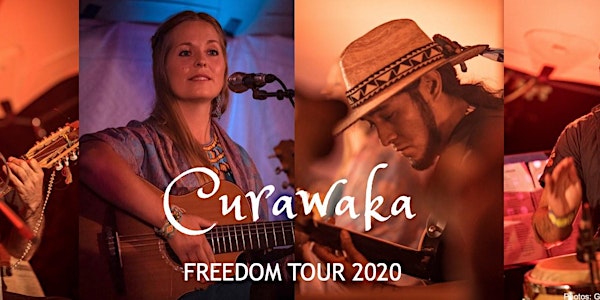 HeartFire Livestream: Curawaka Freedom Tour 2020 Dominicus in Amsterdam
October 2nd Curawaka will give a heartopening ceremonial concert in the Dominicuskerk in Amsterdam as part of their Freedom Tour 2020
Beleid voor refunds
Geen refunds
Over dit evenement
HeartFire Livestream
Curawaka Freedom Tour 2020
02 October 2020
Dominicuskerk Amsterdam
What a honor and pleasure that Curawaka are coming to Amsterdam for their Freedom Tour 2020!
We fell in love with the magical Dominicuskerk in the Heart of Amsterdam where we also organized the concert of Laboratorium Piesni. So much love and beauty.
Due to Corona and the new measurements we can only come together with a maximum of 30 people. We created this livestream for you to join this sacred ceremonial concert that will touch your heart and bring inner peace and joy.
Let's make a powerful prayer together!
International quartet Curawaka invites us on a journey through the soundscape of sacred world music, a unique lush sound coming from the love of the natural world and its ancestral native cultures. Deeply rooted in the sounds and frequencies of the wild heart, Curawaka explore the very essence of ritual song and let it unfold in soaring and groovy Latin American folk rhythms.
Vocalist Anna Bariyani sings in seven languages, including Hatcha Kuin, Yawanawa, Sami, Spanish, Portuguese, English and her mother tongue, Norwegian. Their live show is a heart- opening and soul-nourishing journey through jungles and deserts, mountains and forests; through emotions and memories, with a strong prayer pulsating at its core, a prayer for humanity and for Mother Earth.
Through their musicianship, creativity and connection to the sacredness of nature, Curawaka touches something deep within us, reminding us of something deep, ancient, precious, something beautiful, magical, and indeed, sacred.
Curawaka is visiting a handful of countries in Europe on their Autumn 2020 Freedom Tour, presenting brand new material from their upcoming record «Dreamtime», as well as sharing their celebrated songs such as «Noku Mana», «He Yama Yo» and «Te Nande», from their debut album «Call of the Wild» (2018).
Line up 2020:
Anna Bariyani (Norway) : vocals, guitar, hand drum, shakers
Tavo Vazquez (Argentina) : charango, quena, sikuri flutes
Alberto Arroyo (Mexico) : acoustic & electric guitar, bass
Rafael Ayala Silva (Colombia) : percussion
www.curawaka.com
HeartFire Events
HeartFire is a co-creation of beloveds Daniëlle Doeve & Jeroen van Kemenade. With their HeartFire concerts & healing workshops/soundjourneys they open the hearts of people with medicine music, mantra, sacred songs and sounds.
"To us music created from the heart is a healer, a transformer, a bringer of joy, a connector and a catalyst for change. It connects you with the higher frequencies of love and aligns you with the path of your beating heart.
The singing, the praying, the dancing, being in a place of silence together, the deep listening. So much needed in this time of transition. The heart's fire is contagious!"
www.heartfire.nl