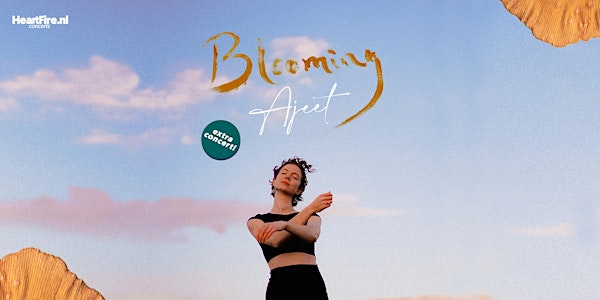 HeartFire Presents: Ajeet Live in Amsterdam :: Blooming EXTRA CONCERT
Locatie
Theater Amsterdam
Danzigerkade 5
1013 AP Amsterdam
Netherlands
Restitutiebeleid
Geen refunds
HeartFire.nl presents :: EXTRA CONCERT :: Ajeet Live in Amsterdam :: Blooming Tour 2022 5 October 2022 @Theater Amsterdam
Over dit evenement
Ajeet Live in Amsterdam :: Blooming Tour 2022
Extra Concert! Join Ajeet as she returns to the stage with her band live-in-person this Autumn all over Europe. We feel grateful to welcome back to Amsterdam, the amazing Ajeet for an extra concert on her new Blooming Tour.
After a surreal time for us all and pause from touring, we emerge from hibernation ready to bloom into a new beginning. Join Ajeet for an evening of ambient meditative spaces, intimate poetry and mystical realms through a truly original musical journey.
Accompanied by Sam Killeen on guitar, Aisling Urwin on harp, and Raffa Martinez on percussion, allow yourself to be carried into a space of deep connection. Let your voice join with many in a call for healing, a return to ritual and a sense of peace through song.
Join Ajeet and her band as they weave together ancient rhythms and melodies, deep meditative spaces and heart-opening songs to bring you on a journey through music. Let your voice join with many in a call for healing, a return to the ancient ritual of prayer through song. With her beautiful voice & her radiant presence she will touch your soul deeply and set your heart on fire.
With her beautiful voice & her radiant presence she will touch your soul deeply and set your heart on fire.
'From the first note, Ajeet's voice feels like the warmth of the earth rising through your body, creating a sense of inexplicable peace that helps you suddenly relax in a knowing that you are connected to every living being through this sacred sound.'
Practical Information
Read all about the practical information about the event on our website heartfire.nl, here.
Tickets
Tickets in all beautiful and flowering combinations. Tickets includes 2,50 euro service fee and bank costs
Special Meet & Greet Pass: 108 euro (first row; only 22 passes available)
Blue Ticket: 65 euro
Green Ticket: 55 euro
Yellow Ticket: 50 euro
Orange Ticket: 40 euro
Red Ticket: 35 euro
Reductions: Children under 3 years (no chair): free | Children up to 12 years: 17 euro | Children between 12-18 years: 50% reduction (excluding 2,50 service/bank costs)
The reduction for children (17 euro or 50%) is not valid on Meet & Greet pass and Blue tickets.
Special Meet & Greet pass: 108 euro
We offer an unique possibility for a special meet & greet with Ajeet & Band 35 minutes before the doors will open for the concert.
The meet & greet pass contains:
* Premium first row seat for the concert
* Signed cd
* Meet & Talk with Ajeet & Band
You can meet and talk with the musicians, get your CD signed, ask questions, and connect in a more intimate way. The band will also play the intimate group an acoustic song of choosing. It is a really nice way for people to connect in a more intimate way and create a unique experience!
There are 22 meet & greet passes available.
About Ajeet
Ajeet is a world music artist weaving inspiration from traditional folk to mystical and meditative soundscapes. The band come together from Spain, Ireland and the United States to offer a musical experience which transcends boundaries and takes listeners on a journey through melody and sonic texture. Many experience Ajeet's music as healing, rejuvenating, and a place of deep connection.
Collaboration is central in her work, and some of her collaborators include Trevor Hall, Aisling Urwin, Sukhmani Rayat, Rising Appalachia, Snatam Kaur, Seamus Egan and Peia. Her creative process extends beyond live performance to her recording studio, where she produces and engineers her own work and others.
Celebrated as #1 on the iTunes World Chart and Billboard Top 10 New Age Chart, Ajeet's music continues to be embraced by communities across the globe.