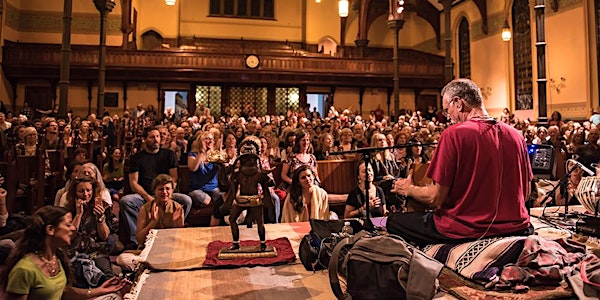 HeartFire presents :: Kirtan with Krishna Das :: Amsterdam 2023
Kirtan with Krishna Das :: excited to welcome Krishna Das back to Amsterdam! Pure bliss to gather and sing our hearts out together.
Datum en tijd
Begint op di. 20 jun. 2023 19:30 CEST.
Locatie
Dominicuskerk Spuistraat 12 1012 TS Amsterdam Netherlands
Beleid voor refunds
Geen refunds
Over dit evenement
3 uren

ALLE LEEFTIJDEN

eTicket voor mobiel
HeartFire presents :: Kirtan with Krishna Das :: 20 June 2023 @Dominicuskerk Amsterdam
What a gift! The legendary Kirtan artist Krishna Das returns to The Netherlands for two kirtans on June 19th and June 20th in the marvellous Dominicuskerk in Amsterdam. On June 21st Krishna Das will host a workshop in De Duif, also in Amsterdam.
Krishna Das has a remarkable soulful voice that touches the deepest chord in every listener. What a joy to come together and sing our hearts out. Layering traditional Hindu kirtan with instantly accessible melodies and modern instrumentation, Krishna Das has been called yoga's "rock star."
Krishna Das - known to friends, family, and fans as simply KD - has taken call-and-response chanting out of yoga centers and into concert halls, becoming a worldwide icon and the best-selling chant artist of all time, with over 300,000 records sold. His album 'Live Ananda' (released January 2012) was nominated for a Grammy in the Best New Age album category.
Sharing his heart through music and chanting is the basis of Krishna Das' own spiritual work; his way of serving the Divine within himself and others.
"The chanting just hits you and you want to be a part of it," KD says. "That's the point of this whole thing. That's what cuts through all the 'stuff'. You get lit up. You don't have to know what it means."
Ticketssales starts Saturday March 25th @10.00 AM (CET).
Join us in live, love & music.
Practical Information
Check all the practical information on the eventpage on our HeartFire website, here.
More info on Krishna Das, here.
Organized by HeartFire.
Join the HeartFire Community
Join our growing community and stay informed about our HeartFire events. Subscribe to our newsletter, like our HeartFire page on Facebook and/or on Instagram. Follow us on Eventbrite to get notified when we publish new events, here. You can also follow us on Spotify to listen to playlists we create, here.
Check out our other concerts on our eventpage, here.