Evenementdetails
Artiesten
Locatie
TOBACCO Theater
Nes 75087
Amsterdam
Netherlands
Beschrijving van het evenement
What a joy to come together at the beautiful TOBACCO Theater in Amsterdam to celebrate the release of Leonie Bos' Live & Acoustic album.
Over dit evenement
Leonie Bos & Friends
Album Release Concert & Livestream
4 November 2020
TOBACCO Theater in Amsterdam
What a blessing that we can come together at the beautiful TOBACCO Theater in Amsterdam to celebrate the release of Leonie Bos' Live & Acoustic album. Especially in this Covid time it is precious to nourish our hearts and souls in a way that is safe.
Leonie is a sacred songwriter, inner voice coach and a creatress. Her sacred songs and music are a gift from her heart.
Her crowdfunding campaign finished on September 17th. It is a very special campaign as it started in the midst of the outbreak of Corona. In stead of recording in the studio she decided to record 10 of her songs LIVE in Nature. We can not wait to hear and feel these songs live.
Mantras and sacred songs have become her own daily practise which she shares with The Morning Kirtan online.
Many people are joining her every morning livestream on facebook and the tribe is growing everyday. So good to come together off line fro an evening full of mantra's and songs from her heart that will connect you with that inner place of silence. Soulfood!
Leonie will be accomponied by Terence Samson on percussion, Sacha Hoedemaker on piano and Tali Oriah Gross on violin.
Date: 4 November 2020
Time: 20:00 - 21:30 CET (Doors open 19:30)
Tickets:
30 euro via Eventbrite
There is place for 30 people (with the new Corona regulations)
HeartFire Livestream
The concert will also streamed live from the TOBACCO Theater in Amsterdam so that everybody can oin as there will be limited space and maybe you rather not travel in this time. So you can be with us from your own cozy home and there you are allowed to sing your heart out if you feel like!
Amsterdam: 8:00 pm
London: 7:00 pm
New York: 2:00 pm
San Fransisco: 11:00 am
Rio de Janeiro: 3:00 pm
Buenos Aires: 3 pm
Bogota: 1 pm
Mexico City: 1:00 pm
Bali: 2 am
Johannesburg: 20:00 pm
Moscow: 9 pm
Tokyo: 3 am
The entrance to this special livestream requires a ticket. There are two types of tickets so everyheart in the world can join:
A normal ticket for 10 euro
An extra ticket for 15 euro If you feel you want to support our soul's work in these transformative times. Much appreciated! 💓🎶✨
Bio Leonie Bos:
Leonie Bos is a singer/songwriter, inner voice coach and creatress.
She uses the insights and transformations of her journey on this life path to inspire others and create an atmosphere that reminds you of coming home. With her background in theatre and popmusic her songs are open and accessible for everyone's ears and heart.
Meditation, yoga and shamanism have always played a big roll in her life. Her songs are filled with the healing vibrations and words of presence and love.
As above so below it's not only love and light she embraces, you can feel and hear the depth of life in her voice.
Her playful and grounded personality are like deep roots into the ground, creating a soft and powerful holding for others to relax and embrace them selfs.
Her mission is to wake up the world with her voice, to be a reminder and inspiration that we are already whole.
In March Leonie started a crowdfunding for this album. It wasn't possible at that time to dive into the studio during the "lockdown", so the idea came to record this music outside in nature. She felt, especially with these times, the songs could be the support that people need right now.
Pure, raw and acoustic. Leonie, her guitar and mother nature.
6 months later; here we are
It is time to share these songs with the world now.
To be a beacon of light. A reminder of home. And a beginning of true healing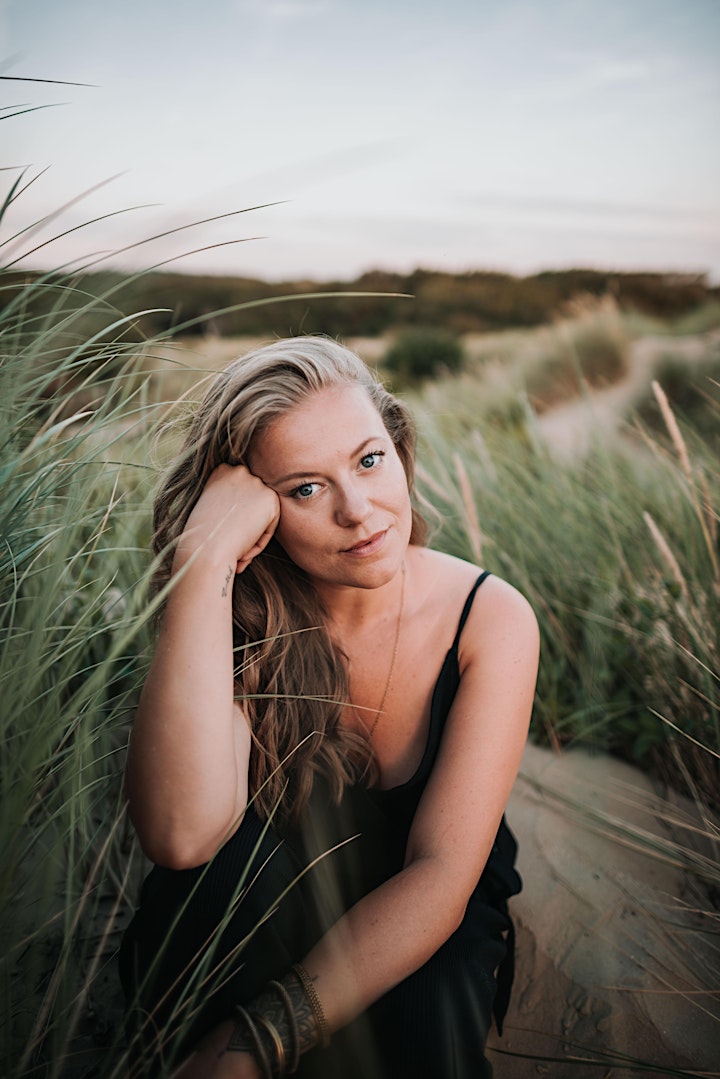 Artiesten
Datum en tijd
Locatie
TOBACCO Theater
Nes 75087
Amsterdam
Netherlands
Beleid voor refunds