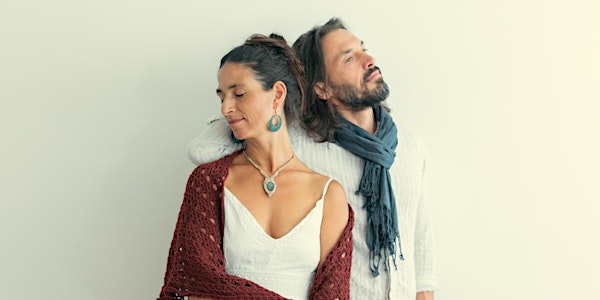 HeartFire presents: Mirabai Ceiba in Concert
ALLE LEEFTIJDEN
The Quiet Hour Tour 2023
We are excited that Mirabai Ceiba will bring their unique sound and enchanting energy to Amsterdam again with their The Quiet Hour Tour.
Datum en tijd
Begint op vr. 16 jun. 2023 19:30 CEST.
Locatie
Dominicuskerk Spuistraat 12 1012 TS Amsterdam Netherlands
Beleid voor refunds
Geen refunds
Over dit evenement
2 uren

ALLE LEEFTIJDEN

eTicket voor mobiel
After the fully sold out concerts in 2018 and 2019 we are so excited that Mirabai Ceiba will bring their unique sound and energy to Amsterdam again in 2023. Such a blast! The tour is named after their last album The Quiet Hour, serene beauty and the perfect antidote for our turbulent times. We cannot wait to hear and feel these new songs live.
It would be great if you join us for an evening of musical enchantment, mesmerizing songs and a spiritual immersion. Let's dive into the meditative space of the heart and nourish our bodies and souls.
Ticketsales starts December 21th 2022 and we have special Festive Bird tickets (valid until January 15th) so you know what ask or to give as a christmas present :-).
We are looking forward to welcome you for an evening full of harmony, connection and love.
Mirabai Ceiba's music draws the listener into a weave of gently plucked strings, majestic piano arpeggios, subtle vocal interplay, and poetic lyricism. The sound is easy to love, but hard to categorize. It's world music. It's chamber music, it's folkloric, it's devotional, but, ultimately, it transcends any label one tries to put on it. In it, we hear the loving play of the heart of two talented musicians and singers: the husband and wife team of Markus Sieber and Angelika Baumbach. Together, they have created a series of acclaimed studio albums and exquisitely realized concert experiences that immerse listeners in a glittering world of transcendent wonder.
"We want to create this space where people can get to a quiet place within themselves, where they can really listen, then the singing or the musical interaction becomes much deeper. We need to come from silence; any creation comes first from a quiet space, from nothing."
— Mirabai Ceiba
Last single: I sing for Mexico
This 2022 Mirabai Ceiba announces her lovely new single in Spanish, Canto por México. The track is a musical collaboration between Mirabai Ceiba and dear friends: Minuk, who incorporated their voices to create a powerful choir-like setting, Charly Garcia with his wondrous flutes, and longtime collaborators and friends Jamshied Sharifi and Ben Wittman.
MORE INFORMATION
Look for more information on our website, here.