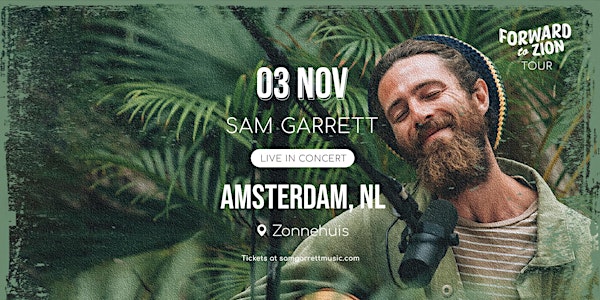 HeartFire Presents :: Sam Garrett - Forward To Zion Live in Amsterdam
Join singer/songwriter Sam Garrett in Amsterdam! His music uplifts and inspires the hearts and souls of people all over the world.
Datum en tijd
Begint op vr. 3 nov. 2023 19:30 CET.
Locatie
Zonnehuis Zonneplein 30 1033 EK Amsterdam Netherlands
Beleid voor refunds
Geen refunds
Over dit evenement
2 uren 30 minuten

ALLE LEEFTIJDEN

eTicket voor mobiel
Sam Garrett :: Forward To Zion - Live in Amsterdam
We very happy to present Sam Garrett for the first time to the HeartFire crowd!❤️‍🔥 On November 3rd he will bless Amsterdam with his presence and beautiful heartopening music.
Ticket sales starts this Saturday April 29th at 10:00 AM (CET). Update (April 29th): the concert is now Sold Out! Amazing, thank you for your interest! We opened a waiting list, click on 'tickets ophalen' and then on 'wachtlijst' to leave your email-adress.
Sam Garrett is an English Singer-songwriter whose music highlights his spiritual journey exploring Eastern Philosophy, Meditation, Yoga and Rastafari Wisdom. Lyrically soulful and devotionally talented, Sam's music uplifts and inspires the hearts and souls of people all over the world.
Sam is introduced to HeartFire by our dear sister Ilanit de Wilde who is Sam's neighbour in a community in Portugal. The fire was immediately lit.
Sam will not come alone! He will bring these amazing musicians and singers:
Alex Höffkins - Drums
Armin Metz - Bass
Jennifer Kae - Backings
Jemma Endersby - Backings & Harmonium
We are looking forward to come together to sing, dance and pray. To honour and celebrate life at it's fullest!
There are (fixed) chairs on the balcony and chairs on the bel-étage to left & right of the stage and in the back, center stage. You choose your seat upon arrival, first come first served. The middle part (parterre) we keep chair-free as our bodies also would like to move to the music 🙂
Share the Love! Make sure to buy your tickets in time as we feel that it will be sold out in a blink of an eye. Gather your friends and invite them via this event. Let's fire up the energy!
More (practical) information on our website, here.
Love,
Team HeartFire