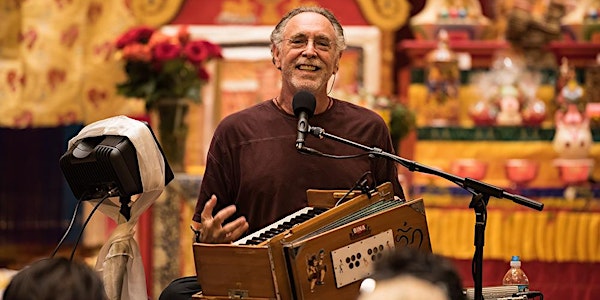 HeartFire presents :: Workshop with Krishna Das :: Amsterdam 2023
Workshop with Krishna Das :: an intimate forum providing the opportunity to dive deeper into the path.
Datum en tijd
Begint op wo. 21 jun. 2023 19:00 CEST.
Locatie
De Duif Amsterdam Prinsengracht 756 1017LH Amsterdam Netherlands
Beleid voor refunds
Geen refunds
Over dit evenement
3 uren 30 minuten

ALLE LEEFTIJDEN

eTicket voor mobiel
HeartFire presents :: Workshop with Krishna Das :: 21 June 2023
Krishna Das' workshops are like mini-retreats of about 3 hours. Krishna Das shares wonderful stories about kirtan practice, of Maharaj-ji and of his life on the Path. He also discusses bringing chanting into our lives. Participants are welcome to ask a question or simply listen in. There will also some chanting (but very little).
If you are mainly interested in Kirtan singing, please look at one of the Kirtans Krishna Das is offering in Amsterdam on June 19 and/or June 20.
Ticketssales starts Saturday March 25th @10.00 AM (CET).
Join us in live, love & music.
Practical Information
Check all the practical information on the eventpage on our HeartFire website, here.
Please bring a cushion or mat to sit on, if you would like to sit on the floor instead on a chair.
More info on Krishna Das, here.
Organized by HeartFire.
Join the HeartFire Community
Join our growing community and stay informed about our HeartFire events. Subscribe to our newsletter, like our HeartFire page on Facebook and/or on Instagram. Follow us on Eventbrite to get notified when we publish new events, here. You can also follow us on Spotify to listen to playlists we create, here.
Check out our other concerts on our eventpage, here.