Dit evenement is afgelopen.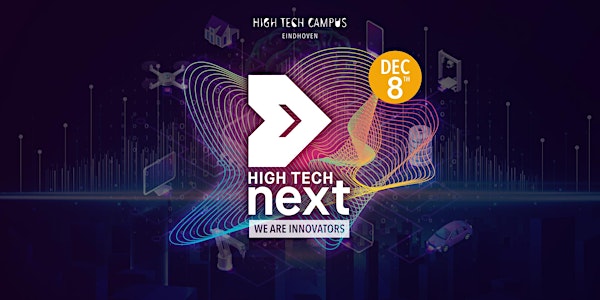 High Tech Next 2022: "We are Innovators" (sold out)
THE EVENT IS SOLD OUT. You can register for the waiting list or recording afterwards. See text below.
Waar en wanneer
Locatie
Conference Center High Tech Campus Eindhoven High Tech Campus 1B 5656 AE Eindhoven Netherlands
Kaart en routebeschrijving
Over dit evenement
The conference is sold out, but here you can register to receive a recording of the plenary program!
Dive into the possibilities of Artificial Intelligence, photonics and the Metaverse. Join us for the High Tech Next conference in Eindhoven.
High Tech Next is set for Thursday, December 8th at the Conference Center at High Tech Campus Eindhoven.
Thursday 8 December
13.00 - 18.30
Conference Center, High Tech Campus Eindhoven
At High Tech Next in November 2019, we presented our plan to become a leading tech hub by 2030, a hub with the same global prominence as San Francisco, Boston and Berlin.
Three years later, we're accelerating toward that goal. We're innovators, and we're always thinking about what's next. So, what's next? Our biggest tech event of the year.
December's High Tech Next conference will focus on how technologies like AI, Photonics and MedTech can help us solve global challenges. We've come through a difficult two years, so what did we learn? Are there new ways to collaborate and innovate, especially after the pandemic? Did communicating online, for example, open up new markets and opportunities to collaborate?
We'll show you new technologies and innovations being created at High Tech Campus Eindhoven. You'll get a sneak peek into the near feature and meet more than 20 high tech companies who will display their latest innovations on AI, Photonics, MedTech and the Metaverse.
We'll have a variety of keynote speakers, panels and – most importantly – networking opportunities. Why? Because collaboration starts with networking.
Add High Tech Next to your calendar and stay tuned for more information.