Dit evenement is afgelopen.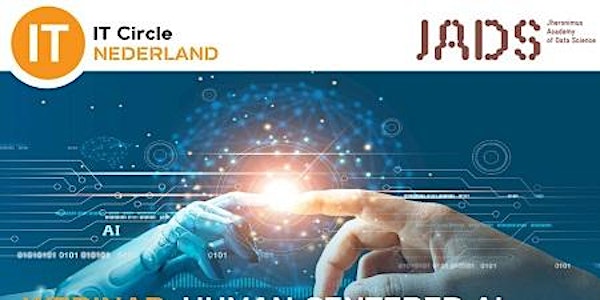 Human centered AI
Data has become an integral part of our existence and helps us in many ways. In fact throughout our daily lives.
Over dit evenement
Data and data technology have become an integral part of anything we do and helps us in many ways. In our work, during study, on the road, in fact throughout our daily lives. Data technology makes things easier, more accessible, faster, we make fewer mistakes. We also increasingly trust that the data we use and/or produce is correct.
👉 How do we actually deal with this as human beings? 👉 What does data do for us and should we be afraid that we will be replaced by Artificial Intelligence or does it complement us? 👉 What is the Human-Centered approach, what should we pay attention to? 👉 Where are the opportunities and threats?👉 What is Hybrid Intelligence and how do we safeguard that human beings are optimally supported and augmented by AI-based technology?
IT Circle Nederland and Jheronimus Academy of Data Science (JADS) will organise a webinar about these topics. The discussions will be presiding by Prof. Emile Aarts, associated with JADS and Dutch AI Coalition and will be broadcasted from JADS Mariënburg Campus in Den Bosch. After the opening you can make a choice for breakout sessions in which we discuss several topics within the themes: Legal/Ethical Frameworks and Practices in the industry. Join us (online) to be informed and updated about Human centered AI.
Table panel
Chairman Prof. Emile Aarts will host the plenary sessions together with his guests (a.o.): Merel Noorman (Ass. Prof. Tilburg University - Data Science Ethics, Regulation and Governance on AI), Gianluigi Bardelloni (KPN – Data & Analytics, ICAI lab on Responsible AI), Mariya Yurchenko (Omron) and Noelle Cicilia (JADS Data Ethics startup). After the break-out sessions, Prof. Aarts will lead a broader discussion with his guests. The speakers of the break-outs and also the participants that connect via Zoom are invited to join this discussion.
Program
14.30 hrs. Welcome and opening
14.45 hrs. Plenary preview discussion
15.00 hrs. Change rooms in Zoom
15.05 hrs. Break out session round 1
15.40 hrs. Break and change of rooms
15.45 hrs. Break out session round 2
16.20 hrs. Plenary discussion
17.00 hrs. End
Breakout session round 1 (preliminary line-up)
After the plenary opening you can join a breakout about the Legal/Ethical Frameworks topic. The following organisations will be present:
➖ "Model Governance framework
"Ensuring responsible, safe and compliant application of
AI and analytical models within KPN" - KPN & Lux-Data
➖ Human centered behavioural data analytics - UTwente
➖ JADS
➖ Developing a data Ethical framework for an insurer - Athora
Breakout session round 2 (preliminary line-up)
After the first round you can join one of the Practices in the Industry topics. The following organisations will be present:
➖ Omron's vision on enhancing productivity and job fulfilment using AI
"Operator-centric AI in manufacturing only brings value when it is fun to use" - OMRON
➖ BE Clean, Technologie en data als meerwaarde - CSU
➖ Digitally-enhanced Operator - KIT AR
➖ Explainable AI - Rijkswaterstaat
➖ AI driven material handling operations - Vanderlande
This webinar will be streamed via ZOOM, after registration we will send you the link soon.