Dit evenement is afgelopen.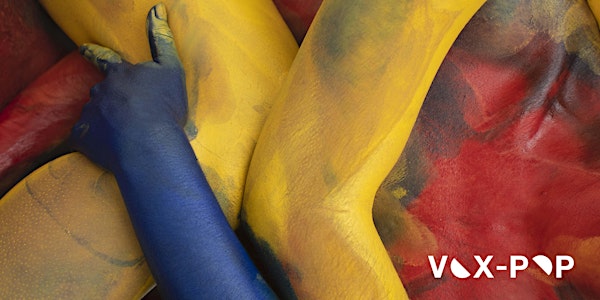 Humanities Ever After
TIME TO CELEBRATE AND EXPLORE THE ART OF BEING HUMAN
Waar en wanneer
Locatie
Binnengasthuisstraat 9 9 Binnengasthuisstraat 1012 XT Amsterdam Netherlands
Kaart en routebeschrijving
Over dit evenement
UPDATE: Due to extended corona-measures the exhibition will be closed until Tuesday 9 February 2021. The exhibition has been extended to Thursday 25 February 2021. We hope to be able to reopen Wednesday 10 February.
-------------------------------------------------------------------------------
Once upon a time, in a not so far away place called Binnengasthuisstraat, VOX-POP was born. It was a scheduled delivery, nonetheless it was a very intentional and idealistic one. VOX-POP was created to stimulate new encounters between people and broaden their perspectives. A place where the academia meets the city, where art meets science, where society meets culture.
Our perception of the world around us depends on the stories we tell each other. Stories are known to have many different forms, from an academic lecture or research paper to a sculpture or a theatre play. Some stories aim to be an objective and truthful representation of the world we live in. Whilst other stories are created to tickle our imagination and challenge us to dream. All together they create our humanities and shape the way we human.
All the works in this group exhibition are related to themes within the Humanities. Which words do we use to label the world around us? Is the relationship we have with our parents all decisive? How culturally determined are our birthday celebrations? These and many more questions are waiting for you in the exhibition. Time to celebrate and explore the art of being human. Let the humanities live happily ever after!
The expo will be open for visitors every Wednesday, Thursday and Friday. Each day has two timeslots, from 16:00-16:45 hr and from 17:00-17:45 hr with a maximum capacity of 8 people. Entrance is free but reservation is necessary. Please be aware that wearing a face mask is required while visiting the exhibition.
Humanities Ever After is curated by VOX-POP and designed by Spatial Motion. The exhibition includes works by Anna Püschel, Erdem Çolak, Grazia Gallo, Igor Lenting, Layla May Arthur, Lisbeth Luft, Max Eyschen, Michal Noy, Noëlle van den Dungen, Rini Brakkee, Rosa Klerkx, Su Melo and Vere van der Veen.
Want to know more? Contact us via voxpop@uva.nl or 020-5254336. In case you reserved tickets but are unable to come, please let us know as soon as possible so we can make the ticket available for someone else.
www.voxpop.uva.nl
Image: Nosh Neneh