Dit evenement is afgelopen.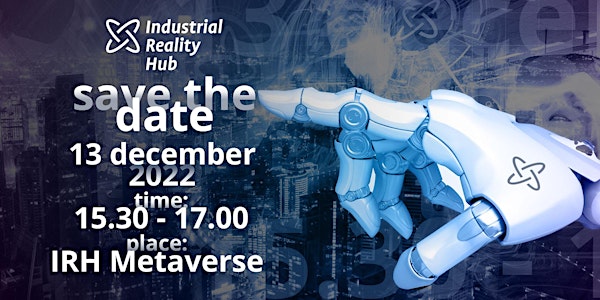 Industrial Reality 2022: The Metaverse
The Industrial Reality Hub has the pleasure to invite you to our fully immersive digital event about the Metaverse.
Over dit evenement
The Industrial Reality Hub is pleased to announce the third edition of our fully immersive digital event. On December 13th various speakers from well-known companies will take part in a virtual panel talk to share their insights about the Metaverse and its possible applications.
The event is hosted by Menno van Doorn (co-author of the book 'Real Fake') in the virtual Venue of our IRH partner Connec2. We'll have two interesting talks by Thijs P. (Sogeti) and Guido Banning (PTC) on the business side of the Metaverse, followed by an interactive panel discussion with various notable panelists: Mariëtte van Huijstee (Rathenau Instituut), Annette Morón (Meta) and, last but not least, Tom De Koninck (TNO).
During the 1,5-hour virtual event they will discuss how the Metaverse will play a valuable role in their company and how it could change the future of work as we all know it. Participation is possible through your own VR headset, with our livestream or you can visit one of our locations in Almelo or Enschede to also experience the event in VR if you don't have a VR device yourself.
You don't want to miss this: it's nothing like digital webinars you've seen before, especially when attending in VR! Check out the recap from last year's edition here: https://www.youtube.com/watch?v=GqQPvyFcPys
About the Industrial Reality Hub: 4 years ago, we founded the Industrial Reality Hub, an European Fieldlab in which companies and knowledge institutes collaborate and share knowledge and experience on XR for industry. This intensive cooperation has grown to 17 partners. After the main program you will have a chance to meet and chat with them (and other participants) in the VR lobby of the virtual venue.