Dit evenement is afgelopen.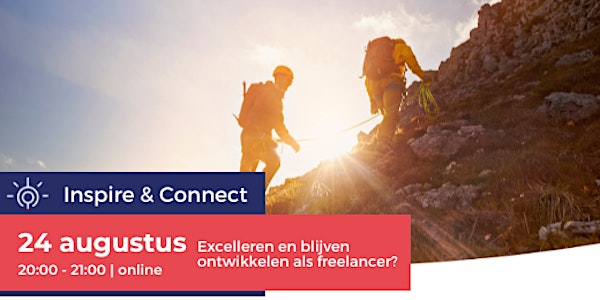 Inspire & Connect | 24 augustus | Excelleren als freelancer online
Inspire & Connect, voor freelance sales en marketing professionals
Over dit evenement
Wil jij excelleren en je blijven ontwikkelen als freelancer?
Ben jij al freelancer of misschien overweeg je te gaan freelancen? En is sales of marketing je passie? Dan is de Sales Marketing Group misschien iets voor jou! De Sales Marketing Group (SMG) is een sterk freelancerscollectief van sales- en marketing professionals waarbij samenwerken, leren van elkaar en specialisaties centraal staan. Hiermee kunnen wij bedrijven, maar ook agencies en recruitmentbureaus een hoogwaardige dienstverlening bieden. De Sales Marketing Group wil jou als freelancer laten excelleren in datgene wat je leuk vindt om te doen. Je kunt werken wanneer waar en hoeveel je wilt. Daardoor heb je de ultieme vrijheid om je werk zo in te delen zoals jij dit graag wilt.
Waarom deze kennissessie?
Met deze kennissessie willen we o online freelancers en experts van SMG samenbrengen om te netwerken en om elkaar naar een hoger niveau te tillen. Je hebt de mogelijkheid om vragen te stellen en discussies aan te gaan over freelancen, zelfstandig ondernemerschap, personal branding, facturabiliteit en nog veel meer wat je te binnenschiet, aan alle experts van de SMG die tijdens deze sessie aanwezig zijn.
Resultaat van de kennissessie
Na deze sessie heb je geleerd:
• Wat de kracht is van een netwerkcollectief,
• Wat de SMG voor jou kan betekenen,
• Hoe jij als freelancer jezelf kan ontwikkelen zowel vakinhoudelijk als persoonlijk,
• Hoe je opdrachten krijgt tegen betere condities.