Dit evenement is afgelopen.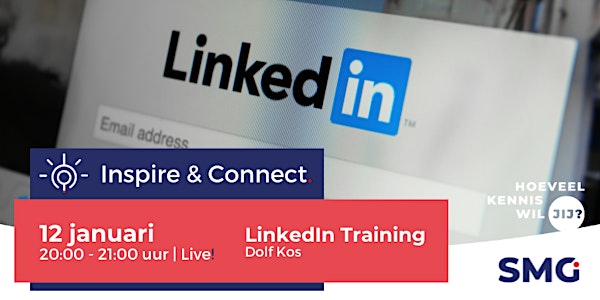 Inspire & Connect LIVE | 12 januari | LinkedIn training met Dolf Kos
Inspire & Connect, voor freelance sales en marketing professionals
Over dit evenement
Bekijk deze online Inspire & Connect. Reserveer nu jouw gratis plek!
LinkedIn biedt vele kansen om als freelancer of interimmer gevonden te worden door opdrachtgevers. En zeker nu we allemaal de impact ervaren van de nodige maatregelen is het essentieel om je online zichtbaarheid geoptimaliseerd te hebben.
Daarom verzorgt de Sales Marketing Group een webinar om jouw LinkedIn profilering te optimaliseren. Met ruim 70 tips neemt Dolf Kos je mee in de wereld van LinkedIn in de praktijk. Hoe trek jij online de aandacht naar je toe en hoe zorg je voor meer bereik? Of wil je weten hoe jij de gunning krijgt van recruiters? Je leert het allemaal tijdens de online LinkedIn training van de Sales Marketing Group. Na ca. 1 uur weet jij hoe jij je profiel onderscheidend maakt!