Dit evenement is afgelopen.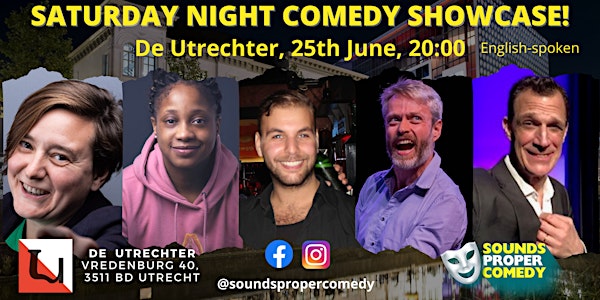 International Comedy Showcase
Saturday night comedy show in English featuring Greg Shapiro!
Waar en wanneer
Locatie
De Utrechter Stadsbrasserie en Bar 40 Vredenburg 3511 BD Utrecht Netherlands
Kaart en routebeschrijving
Beleid voor refunds
Neem contact op met de organisator om een restitutie aan te vragen.
Eventbrite-kosten zijn niet restitueerbaar.
Over dit evenement
Sounds Proper Comedy hosts its season finale in de Utrechter with 2 Edinburgh Preview Shows in one night!
20:00-21:00: Cynically Dead: Sharon Em & James Johnson
21:00-21:30: Break
21:30-22:30: Not Angry, Just Disappointed! : Colin Etches & Rachel Morton-Young
============
Show Details:
CYNICALLY DEAD
A show to make you think: 'Maybe I'm not doing so badly after all…'
There are people who make things happen. And then there are people like Sharon and James, who things just happen to...
Join them as they wonder where where it's all going wrong. From disastrous treks across the desert to unwittingly spending 10 days on a SAGA cruise: if you're looking for a show that makes you feel like you're on top of things, they've got you covered.
Sharon Em (IRL) fluctuates between trying hard and hardly trying. She meanders from place to place disproving the theory that 'not all who wander are lost'. She clearly takes on more than she can handle but always seems to find a way out.
James Johnson (UK) is a 30-something homosexual who would probably get on quite well with your nan, particularly if she has a penchant for gin. He's a quick-witted storyteller who minces at full throttle between the observational, the absurd and the ever so slightly dark.
Ages: 18+ (The swearing's not too bad. But there are quite a lot of references to people like Judith Chalmers…)
So come and see what all the fuss is about. After all, listening to other people's disasters is a lot easier than sorting out your own….
"Sharon is a joy to watch and on the best up and coming acts in Europe." – Aiden Killian, Magners International Comedy Festival Asia
"James Johnson shows genuine promise as his personality shines and his take on the subject matter strikes an uncompromising balance between niche and accessible. His idiosyncratic punchlines and fast, perfectly pitched delivery put one in mind of Tom Allen, but the quality of Johnson's writing needs to be acknowledged in its own right. Witty, eccentric and perfectly paced." – Ed Fringe Review 2021
==================
NOT ANGRY, JUST DISAPPOINTED!
A comedy show about parenthood.
Rachel Morton-Young and Colin Etches muse over the joys of parenthood; the highs, the lows, the irritations and the chaos. Observational, witty and relatable, this show is a must-see for parents, aspiring parents or indeed anyone who has ever had a parent!
COLIN ETCHES:
Often described as a force of nature, Colin's diverse routines move back and forth between cutting observations on topics such as religion, conspiracy theories and relationships to more personal confessions about his neurodiversity. Audiences lean into Colin's set, drawn in by his boyish charm. They accept his relatable, yet ridiculous stories, delivered in a manner which is, at times, reassuringly conversational and, at others, nothing short of erratic.
"Colin's is a deft touch, and the blokey manner in which he explores these topics is reassuringly conversational." – edfringereview.com (Absolutely Themeless, Aug 2021)
"My kind of comedian" - Tony Law (Comedian)
RACHEL MORTON-YOUNG:
Rachel is an energetic British comedian, based in the Netherlands who was recently awarded Best Stand-up by the worldwidecomedyawards.com. As a self-confessed clumsy and chaotic chatterbox, her life is a constant source of inspiration for the comedy she writes and performs.
"She struck a rich cord when speaking about her children […] full of beans and her energy seemed to fill the entire room" – Peter Fox, Nott's Comedy Review (Nov 2021)
Join us in de Utrechter for an evening of fun and laughter!
www.soundspropercomedy.com