Dit evenement is afgelopen.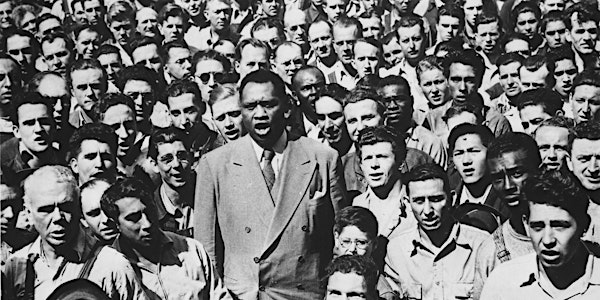 International Symposium: Paul Robeson
The Artist as Revolutionary
Waar en wanneer
Locatie
West Den Haag 102 Lange Voorhout 2514 EJ Den Haag Netherlands
Kaart en routebeschrijving
Beleid voor refunds
Neem contact op met de organisator om een restitutie aan te vragen.
Eventbrite-kosten zijn niet restitueerbaar.
Over dit evenement
Jared Ball (US), Lisenne Delgado (NL), Mohammed Elnaiem (SD), Baruch Gottlieb (CA), Gerald Horne (US), Robert Machiri (ZA), Tania Cristina Monteiro (NL), Anne Wetsi Mpoma (BE), Shana L. Redmond (US), Mireille Tsheusi Robert (BE), Louna Sbou (DE) & Sylvana Simons (NL)
Introduction
Paul Robeson was, at the peak of his fame in the 1930s and 1940s, one of the most recognisable celebrities in the world. As a star on stage and screen, he was also a committed political activist for the full and equal rights of Black people, Pan-African solidarity, and the struggle against fascism and imperialism. The public program associated with our year-long exhibition project 'Paul Robeson: Artist as Revolutionary' evokes how art and political commitments are intertwined in this unique career. This international symposium explores various facets of this fascinating figure in the context of today's challenges and struggles. Together we examine how the arts can function to mobilise political agency and build solidarity in the context of the causes to which Robeson dedicated his life. The discussants come from a wide variety of backgrounds, from academia to the arts, from activism to electoral politics, and all exemplify Robeson's multidimensionality where all talents are sharpened in the struggle for a better world.
--
Introductie
Paul Robeson was, op het hoogtepunt van zijn roem in de jaren 1930 en 1940, één van de meest bekende artiesten in de wereld. Naast een ster op het doek en op het podium, was hij een gedreven politieke activist in de strijd voor gelijke rechten, pan-Afrikaanse solidariteit en in de strijd tegen fascisme en imperialisme. Het publieksprogramma, behorende bij het eenjarige tentoonstellingsproject 'Paul Robeson: Artist as Revolutionary', toont hoe kunst en politiek met elkaar verweven waren. Het internationale symposium verkent diverse facetten van deze bijzondere man in de context van hedendaagse kwesties en problemen. Samen kijken we naar hoe kunst kan bouwen aan politieke autonomie en solidariteit. De sprekers komen uit een diversiteit aan achtergronden, van wetenschap tot de kunsten, van activisme tot politiek, en allen belichamen Robeson's veelzijdigheid, waarbij alle talenten zich bundelden in een strijd voor een betere wereld.
PROGRAM
Friday 21 October 2022
13:30 — 13:45 Doors open
13:45 — 14:00 Welcome: Baruch Gottlieb
14:00 — 14:45 Brave Spaces: Louna Sbou
14:45 — 15:00 Break
15:00 — 15:45 Art & Black Liberation: Anne Wetsi Mpoma
15:45 — 16:30 Black Feminist Decolonialism: Mireille Tsheusi Robert
16:30 — 17:00 Break
17:00 — 17:45 Using Fame for Change: Sylvana Simons
18:00 — 18:30 Panel Discussion: Anne Wetsi Mpoma, Mireille Tsheusi Robert, Sylvana Simons
19:00 – 20:30 Performance: Machiri
Saturday 22 October 2022
10:30 — 12:30 Workshop Robeson & Cabral: Tania Christina Monteiro & Lisenne Delgado
13:45 — 14:00 Welcome: Baruch Gottlieb
14:00 — 15:15 i Mix What i Like: Jared Ball
15:15 — 15:30 Break
15:30 — 16:30 Everything Man: Shana L. Redmond
16:30 — 17:30 Artist as Revolutionary: Gerald Horne
17:30 — 18:00 Wrap up
18:00 — 18:30 Break
18:30 — 19:30 Robeson Meets Padmore: Re-enactment of an encounter: Mohammed Elnaimi
---
Symposium will be in English / Workshop will be in Dutch
2 day International Symposium
West Den Haag, former US embassy, Lange Voorhout 102, The Hague, Netherlands
More info: www.westdenhaag.nl