Dit evenement is afgelopen.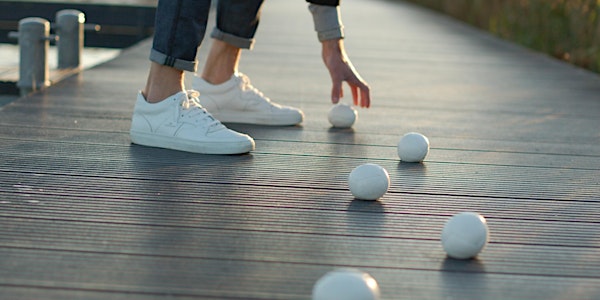 JUGGLE WORKSHOP | JUGGLING & THE TECHNIQUES BEHIND
JUGGLING & THE TECHNIQUES BEHIND An introduction course for (young) adults by Pascal van der Neut
Beleid voor refunds
Neem contact op met de organisator om een restitutie aan te vragen.
Eventbrite-kosten zijn niet restitueerbaar.
Over dit evenement
About this workshop
Have you ever thought about learning how to juggle? Are you fascinated by keeping several balls up in the air? And are you ready for a challenge? Then you are invited to join this introduction course. All you need is three juggling balls, a bit of space around you, and lots of motivation. In the beginning, juggling can feel a bit overwhelming, but if you follow simple patterns, you can learn it step by step. It challenges your brain, but it also has something relaxing to it. And it, for sure, is lots of fun. Are you ready to throw some balls up in the air?
This workshop is for you if…
… you are keen on how to juggle 3 (or more) balls.
… you are looking for a fun challenge.
… you want to learn something new.
… you want to connect with like-minded people
… you still need a cool present for a good friend.
… you tried to juggle before but it just didn't work out.
Or maybe you just ran into this event and thought: I wanna try this.
No matter what age you are or where you are at the moment, just join us online!
Did you already know that juggling
Increases your brain capacity and lowers your stress level
Improves your ability to concentrate
Trains your perseverance
Helps you to become more goal-oriented
Gives yourself more confidence
Improves your hand-eye coordination

Juggling is so much more than it seems at first glance. Research indicates that juggling can make a valuable contribution to good physical and mental health. It is calming, fun and social – and, we have to admit, even a bit addictive.
This workshop is meant to
Introduce you to the basics of juggling
Offer some theory & lots of practice
Teach you a few tricks to impress yourself & others
Provide you with some personal feedback
Answer questions that come up along the way
In the end, you'll have gained some first practical experience with juggling and you can keep building up on that by yourself or you can join our juggling program during the summer! Either way, we hope that this will only be the beginning of a juggling journey. In the end, it is all about trying out new things and learning more about yourself!
What you need
You'll need 3 balls. If you don't have any juggling balls, you can order them for example here https://www.circus-expert.nl.
Please make sure you have downloaded the zoom software and checked your camera and microphone beforehand. In order to get personal feedback, your camera needs to be on and you need to be able to move your camera a bit further away when practicing to have you and the 3 balls on screen. (Makes sense, right?)
Just find some quiet space in front of a wall (ideally a non-busy background). Please be aware that the balls can go a bit wild in the beginning ;)
This workshop is set up for 90 minutes.
The online juggling experience
Of course, the online experience will be a bit different than getting together in real life. But it offers you the comfort of just getting started wherever you are and within a small group setting (up to 8 people). There will be lots of room for personal attention and individual questions/ feedback. Because in the end, this course is about you and your own journey. And about trying something new and connecting with like-minded people who are also into juggling!
About Pascal
Pascal has been into juggling for more than 20 years. On big and small stages, or while just being at home. With balls, and rings, and clubs. Over the past years, he focussed more and more on training others on how to develop their juggling skills. He truly enjoys seeing people getting motivated, learning and growing. And of course, it is also about dropping the balls many times and just trying again. Juggling can teach us a lot about how we approach new things in life and how we adapt to new circumstances, so Pascal. It is build upon specific patterns which you can turn into creative expressions of your own. It is a fun journey of overcoming your own barriers. Yes, you can do this!
Do you want more?
Then reach out to us (hi@pascalvanderneut.com) and stay tuned for further courses as well as our next program!