Evenementdetails
Restitutiebeleid
Neem contact op met de organisator om een restitutie aan te vragen.
Eventbrite-kosten zijn niet restitueerbaar.
Beschrijving van het evenement
Learn how to create overview and structure in 2 mornings!
Over dit evenement

Imagine a life that you:
are able prioritize and get all the important things done on time,
are proactive rather then reactive,
have more confidence in your choices,
have more momentum towards your goals,
are able to relax, enjoying your free time guilt free,
have less stress and anxiety in your life,
are feeling more energy and aliveness!

Are you always short of time with a super long to-do list, and at the end of the day do you often have no idea what you did that day?
If you want to work more productively,
if you want to get control over your never ending to-do lists,
if you are looking for more time, peace, structure and less chaos,
if you want to make the best of your day without getting exhausted,
You are at the right place!

Feeling overwhelmed, stuck, disorganized?
Reacting to situations rather than creating them?
Making circles, unsure of what to do next?
Procrastinating and not getting the important things done?
You are not alone!
In the modern time and day we are living now,
in a world that is 24/7 active,
with the overload of information from every corner,
and demanding work and private life asking for our attention,
it is very easy to lose the overview and the big picture!

Life does not have to be this way and it can be different!
How do I know? Because this is also how I was.
And learning how to plan effectively has changed my life.
Once I was on the other side, I saw clearly why I was not before effective at life as much as I could be!
Because simply I did not have yet the skills and tools to allow me do it.

We are not precisely taught how to be more productive or how to plan, neither at school or at home or work.
We all know what to do and what is good for us, but we do not necessarily know how to fit those things into our already busy lives.
So mostly we all make-do with the skills that we somehow acquired.
The interesting part is that pro-active planning and becoming more productive isn't that complicated.
If you follow some simple systematic steps, it is actually very simple.

Join me on this Jumpstart your productivity workshop!
In 2 mornings learn the basics of creating overview, structure and effective planning in your life!

What will you learn?
• The 4 steps productivity methodology framework that brings order to any chaos,
• How to plan proactively,
• How to set up your own system, that will serve you as a second brain,
• How to create structure and overview,
• How to effectively empty your mind to eliminate mental fog,
• How to create well organized to-do lists for your tasks and projects,
• How to crumble big goals into small achievable steps,
• How to group tasks together to get more done, more efficiently,
• And how to maintain your system so that it becomes a regular part of your life.

Workshop is divided over 2 sessions, 2 mornings.
Session 1 - 16.07.2021 Friday 10:00-12:30
We will start with the theory.
There will be some tasks/homeworks given for the next week.
-
Session 2 - 23.07.2021 Friday 10:00-12:30
We will work with exercises, on second day the focus is on the application of what we learned .
12:00 We will do a Q&A at the end.
By the end of the 2 sessions:
you will setup an -efficient and well organized- list manager for your self,
you will have a clear plan for the week ahead,
you will be ready to directly get in to action,
and you will already see and feel the positive changes.
For the best results, please join the zoom sessions at a spot where you will be least distracted, and preferably on a computer (instead of phone or tablet).

What others say?
Jeanne G. For years I am looking for a way to structure my life.I asked so many times for help.Now I have the feeling that I come much closer to the solution I needed.I am so grateful.
Jeroen S. Again well organized, a lot of depth, excellent communication, excellent guidance. In short, a must for everyone who wants to gain insight into how to organize better and how the human brain works in it!
Evelien B. Thank you for your workshop. Very helpful for a chaotic person like me.
Petra H. Compliments over your very interesting and helpful webinar! My husband watched the second with me and we are both more productive already!
Ifee O. Surprised that there are people in the same shoes as I am, who are undergoing chaos in managing their daily lives, but glad that there is someone who had been in similar circumstance and is now using her time to help people like me to get better organized and more productive. My sincere appreciation.
Tens of participants preceded you on following the Jumpstart Your Productivity workshops. Participants give the training an average of 8.2.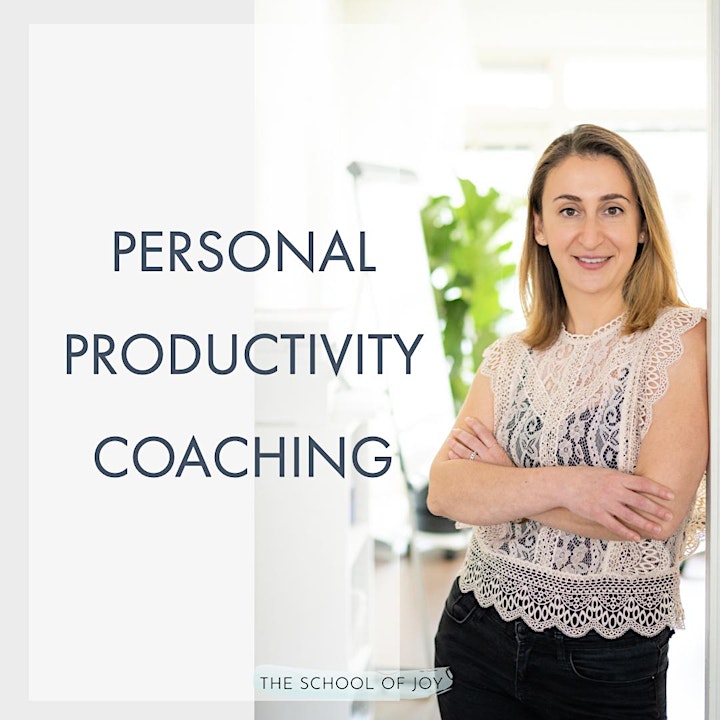 About me
Hi I am Zeyda Broers.
I am a personal productivity coach and trainer.
I support starting entrepreneurs and information workers to transform their lives, by raising their productivity, in a peaceful and sustainable way.
I started out in life as an engineer and I am obsessed with making every idea practical, passing it first through my "can I use it right away, to make a difference" test.
I love teaching systems, methods, and new ways of structured thinking, about work and the never-ending to-do's of life.
Jumpstart your productivity workshop series are based on the different aspects of GTD®, and my 12+years of personal experience in application of it.
Datum en tijd
Locatie
Restitutiebeleid
Neem contact op met de organisator om een restitutie aan te vragen.
Eventbrite-kosten zijn niet restitueerbaar.