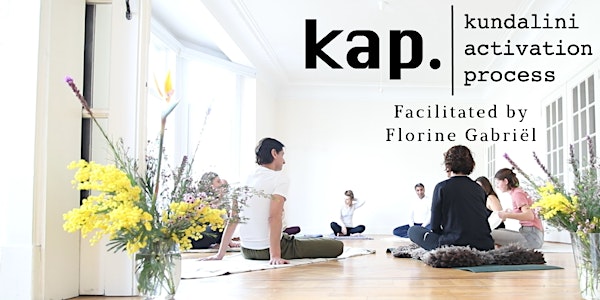 KAP- Special edition Breda (NL)
KAP- Kundalini Activation Process Special edition Breda
Waar en wanneer
Locatie
het boshuis Stouwdreef 1 4836 AK Breda Netherlands
Kaart en routebeschrijving
Beleid voor refunds
Restituties tot 1 dag voor evenement
Eventbrite-kosten zijn niet restitueerbaar.
Over dit evenement
KAP- Special edition Breda
This session is different then most other KAP- sessions. In a KAP- special edition there is more time and space to meet. Sharing the importance of integration and grounding. When we take space to integrate, the transformation can truly begin. To receive the gift of the transmission through a path of surrender and at last, to deeply connect with your divine being. The session is held with a small and intimate group.
*For the full investment price, please read the text underneath.
Kundalini Activation Process
KAP stands for Kundalini Activation Process. It is a direct transmission of Kundalini that activates the Awakening of your own, innate, Kundalini energy. This is an intelligent life force energy and a safe, natural process that does just what your system needs in any given moment.
This is an energy transmission, not a self-generated process, meaning you only need to lay back, relax and be present in the here and now. To be able to fully receive in order to benefit from the transmission. It is the path of surrender (not a path of the will such as kundalini Yoga, tantra, ) that creates possibilities for healing, higher states of consciousness and a deeper connection to All-That-Is. When we open ourselves we come to realize we are here on earth to play. The world is our playground. Can we ease into this playfulness, openness and awareness.
During this unique KAP-Kundalini Activation Process you may have different experiences like physical, emotional, visual or states of bliss can arise. A profound rewiring of the brain structure and central nervous system happens with continued exposure. To explore beyond the veil and experience a deep and profound truth and authenticity. To merge into the infinite, and to unify with the divine source energy that flows through all of creation. Every "symptom" or sign of a kundalini activation, from the earliest signs to the later end manifestations are seen regularly in participants.
KAP session
During the session you lie down on a yoga mat, while music is played and your eyes are closed during the entire session. All you need to do is relax your body, mind and surrender to the process without expectations. Coming back to your own space within you. Allow whatever arises to be experienced and expressed. The facilitator may touch or press some of the chakra or meridian points on your body. This is what happens from the outside, yet it is unable to grasp the deepening experience that can happen inside of you. Your own unique experience.
About the facilitator
Florine Gabriel's (NL) work is based on the values of awakening, liberation and integrated connectiveness. She recently has completed her studies in ThetaHealing Basis, Advanced, Dig Deeper (2021), Game of Life and Intuitive Anatomy (2022). Through this training she connects you with source, guiding you on a trauma free life where you feel aligned with the spiritual, emotional and physical body.
She is an accredited KAP facilitator and has directly trained with the transmission vehicle and Venant Wong (founder of KAP). She is part of the first group of KAP – facilitators through Europe (2019). Through her embodiment, she is able to transmit a unique KAP frequency, sometimes activating a lasting ability to see and perceive energy. She has studied with Pi Villaraza of Inner Dance in the Phillipines in 2020 and with Elliott Saxby in 2021 of the Kundalini Bodywork school in Switzerland. She is a Wataflow (water therapy) facilitator, trained with Oceano based in Ibiza in 2018. Furthermore Florine is a Embodied Flow yoga teacher (2018) and has a background in education (Steiner/ Waldorf teacher).
TICKETS
The investment is 85 euro p.p. per session. the deposit is done via Eventbrite. From there you'll receive the last information by email.
DISCLAIMER
By attending the KAP- session you certify that you have read and agree to the following disclaimer. KAP is not scientifically studied or proven in any way and all results and claims are evidence based only. KAP may involve physical movements as well as an opportunity for stress reduction and improved mental well being. As is the case with any physical activity, the risk of injury is always present and cannot be entirely eliminated. If you experience any pain or discomfort, listen to your body, discontinue the activity and ask for support from the instructor. You will continue to breathe smoothly. You assume full responsibility for any and all damages, which may incur through participation. KAP is not a substitute for medical or psychological attention, examination, diagnosis or treatment. KAP is not recommended and is not safe for those prone to mania, delusion or psychosis. By registering for this class, you affirm that a licensed physician has verified your good health, physical and mental condition to participate in such a program. In addition, you will make the instructor aware of any medical conditions or physical limitations before class. If you are pregnant, or are post-natal or post-surgical, please contact the facilitator. You hereby agree to irrevocably release and waive any claims that you have now or may have hereafter against KAP (Kundalini Activation Process), Florine Gabriël, or any of its instructors/facilitators. Your email will never be shared with any third party. It will only be used for KAP- communication purposes.