Evenementdetails
Locatie
Terminal C - C.C.Work 兆基商務中心建北館
92號 Section 3, Jianguo North Road
Zhongshan District, Taipei City 10482
Taiwan R.O.C.
Beschrijving van het evenement
Welcome to attend an event full of colors and exotic tastes! Children are welcome.
Over dit evenement
Las Bandidas Production by Monica Sanchez Duran and Fundacion de Residentes Latinos en Taiwan
Monica Sanchez Duran is the project Manager of the Fundacion de Residentes Latinos en Taiwan and she is the director, writer and planner of this event. Monica Sanchez started her Latino movement in 2011. She has been very active in all social integration programs for the Latino Community in Taiwan. She was also one of the first person who brought the LATINO CARNAVAL IN TAIWAN in 2012.....The Latin Market in Taiwan is a copywriter project of the Fundacion de Residentes Latinos in Taiwan. Monica Sanchez is a dedicated, caring person; her aim is not to be liked by others because hers is social cultural and nonprofit oriented. Most of her events are well liked by people who have lived abroad and those who understand the importance of social integration by means of food, music, arts and dances. Ms. Sanchez started her integrational projects, when she herself became a new migrant into the Dutch society 2001. In 2002 she became an assiduous volunteer worker at Het LatijnAmerikanse Centrum voor Orientatie, due her 15 years of continuous support and assistance to the new comers in The Netherlands, along with her organization director and 23 other members, she was granted an official pin granted every to recognize people whose work is noble and deserves been honored. She was given this award due her 15 years of volunteer services for the well-being of the Latino community in Eindhoven, NL (2015).The main objective of the Latin American food and music Festival is to enhance the long standing friendship between the Taiwanese people and the Latin American People. It is time that both residing people in Taiwan get the opportunity to flavor 'Latin American beats, music, food, language and friendliness'.
One may not have to forget that Taiwan's biggest supporters are mostly the Central American nations. Our intentions are not political but social and cultural. We wish to contribute to an unforgettable event where the fellowship between these two longstanding friends has been inactive. Therefore, willing to integrate both cultures in a pleasant night us: LA FUNDACION DE RESIDENTES LATINOS EN TAIWAN (Social and cultural association) is really looking forward to entangle this mutual friendship network with the Taiwanese public and therefore, to have the opportunity to expand our rich Latin American language, cultural and business opportunities.
"Come and experience the true spirit of A Latin American PEOPLE . You young energetic, fun, loving people in Taiwan deserve to be a part of this evening. Please write this date in your agenda. It will be a night of costumes, show, live band, welcome drink. Indulge you with laugh, dance, food and a great spectacle." Since 2013 up to now, our events we have been accepted and well liked and follow from more than 1,000 up to 5,000 followers fans and people who has attended our events – which was called CARNIVAL LATINO 2012 and again re- organized in 2013. This event attracted many young Taiwanese people aged 25 – 50 years old who have been living abroad, or knows a bit about the Latin American cultural.
Latin Afro Caribbean Program content:
CULTURAL PROGRAM 文化節目August 15, 2020
12:00 - 12:15 資深立委致辭
Official opening
12:00 – 12:15 由資深立委歡迎語
Tratiditional Dresses parade
12:40 - 13:00 許芳妮主持的小吃研討會(事先報名制)
Tapas workshop please enroll for this activity)
13:10 - 13:20 拉丁之心舞團帶來的傳統JARABE Tapatio舞蹈
Mexican Jarabe Tapatio by ballet Folcloric
13:20 - 13:30 "我是Cumbia"帶來的哥倫比亞舞蹈
Colombian Dance perfermed by "Yo soy la Cumbia"
15:00 - 16:00 塔可工坊(事先報名制)
Tacos workshop (please enroll for this activity)
17:00 - 17:15 童趣時間:皮納塔(piñata)
(this program may vary, please check with the event page)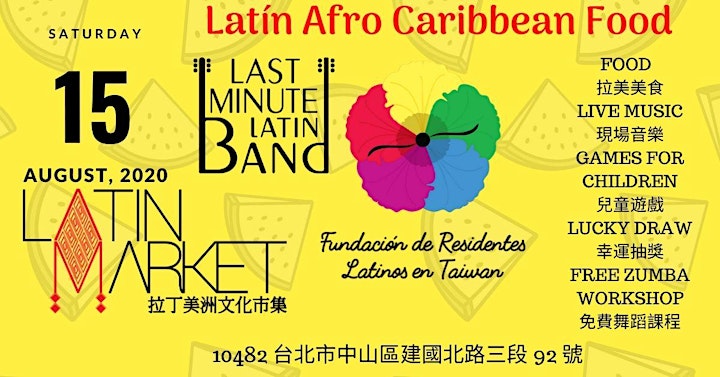 Datum en tijd
Locatie
Terminal C - C.C.Work 兆基商務中心建北館
92號 Section 3, Jianguo North Road
Zhongshan District, Taipei City 10482
Taiwan R.O.C.