Dit evenement is afgelopen.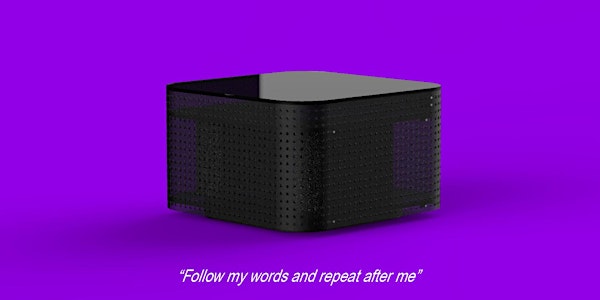 Life Hacks: Introducing Iris
Waar en wanneer
Locatie
Het Nieuwe Instituut Museumpark 25 Study Center (3rd Floor) 3015 CB Rotterdam Netherlands
Kaart en routebeschrijving
Beschrijving
(◕‿◕) Take your time to reflect on this: Are you doing what you truly want to do? (◕‿◕) ị̞͍s̯̩̠ ̴̩͉̫̗͇ț̠ͅh̪̼̟̪̕i͠s͎̝̩̯̩̠ ̗̘̰̟̩͕p̻̘͙͓á̩̭r̳͚͕̘͖ṯ̤̼͔͖ͅ ̜̱o̯̩̦̗̮̖̣f ̺͝y̥͡o̧̺͚͉̠͙̗ͅu̧̜͖̥r̸̘ ̹̤͙̳j̴̙̗o̵̼̲͉͖̮b̥͖͘ ͕͓ḏ̷̩e̫s͖̭͕̙̱͉ć̖͉̯̙̫̪r̶̠i̖p̨̜t̨̼͓ͅi͖͈͇͙͞o͏̹̠̬̻n͍̩͇̱͞? (◕‿◕) If happiness is a currency, how rich do you think you are? (◕‿◕) ♪♬ ғɪx ᴡᴏʙʙʟʏ ᴏғғɪᴄᴇ ғᴜʀɴɪᴛᴜʀᴇ ʙʏ ᴜsɪɴɢ ᴏʟᴅ ᴄᴅs ᴛᴏ ᴀᴠᴏɪᴅ ᴡᴏʙʙʟᴇs ᴀɴᴅ ᴘʀᴏᴛᴇᴄᴛ ᴛʜᴇ ᴄᴀʀᴘᴇᴛ. ᴛʜᴇʏ ᴀʟsᴏ ᴍᴀᴋᴇɢʀᴇᴀᴛ ᴄᴏᴀsᴛᴇʀs. ♪♬
A shady corporation is trying to take control of a fluid, chaotic global market. Workers surrender themselves to a seductive new device called Iris, which purports to enlighten them and unleash the real power of the entrepreneurial self. Iris is designed to help full-time, part-time and zero-time employees cope with the complexity of modern life, divulging secrets of the precarious worker, of autonomy and maximum efficiency through a new magic formula contained in the meaning of Life Hacks. But… anonymous cyber-pirates are exploiting the device to rouse a cry of rebellion against this oppressive society of self-management. Discover the paradox buried deep within Iris, where autonomy leads to subjugation, and subjugation appears as freedom.
The Experimental Publishing (XPUB) program of the Piet Zwart Institute invites you to the third event of the Life Hacks series. Following the launch of 'Ten Theses on Life Hacks', XPUB's 7th Special Issue is a further step of an inquiry into the meaning of Life Hacks. XPUB welcomes you to experience a personal session with Iris, and discover your limitless potential to succeed.