Dit evenement is afgelopen.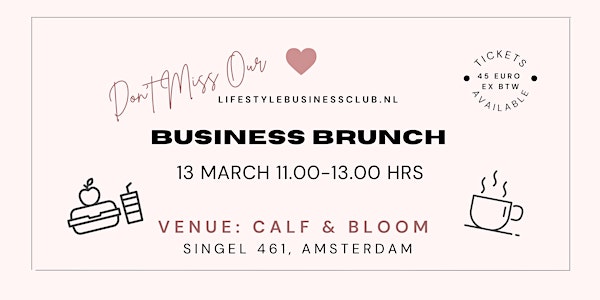 Lifestyle Business Brunch - Meet Up ENGLISH
We make networking FUN! Please attend this first ENGLISH Business Brunch for entrepreneurs with international background
Door Lifestyle Business Club
Datum en tijd
ma. 13 mrt. 2023 11:00 - 13:00 CET
Locatie
Calf & Bloom 461 Singel 1012 WP Amsterdam Netherlands
Beleid voor refunds
Neem contact op met de organisator om een restitutie aan te vragen.
Eventbrite-kosten zijn niet restitueerbaar.
Over dit evenement
Lifestyle Business Brunch – special edition – for English speaking entrepreneurs!
Business gathering for fashion-lovers, beauty-addicts, health-minded, branding-fanatics, interior-junkies & travel-loving entrepreneurs.
Let's connect, explore business opportunities and to see what we can establish through a collab.
As we got a request for our netwerk event in English we are organising this first editon. Fabulous networking as we will decorate the table with nice brands for you to try!
The Lifestyle Business Club is founded 2011 in The Netherlands has over 9,500 members in the lifestyle, fashion, beauty, wellness, PR, branding, travel, health and media industry.
We are also expanding our network by organising business lunches on Ibiza (27 Sept), Paris (8 March), Dubai (Oct), London (17 March), Tokyo (3 May) in 2023!
Goal is to establish new network, brainstorming about new concepts, create brand awareness and encourage collaborations between entrepreneurs from different fields but with same passion for lifestyle & business.
For more info and look & feel: www.lifestylebusinessclub.nl
Program of this event:
10.50hrs venue will open for us
11.00hrs welcoming by introduction LBC
11.15hrs brunch
11.30hrs pitch round
12.00hrs end with small attention
Tickets includes 3 drinks and brunch
€ 45 ex tax non members
€ 40 ex tax with member code
Please buy your ticket in advance to be sure your seat is not taken 😊 https://englishbrunch.eventbrite.nl
Not able to join?
We are organising 150+ network events a year.
And if we see there is a certain demand for English speaking events, we will organise another one.
We are looking forward welcoming you.
#Connectingforpossibilities
Over de organisator
Lifestyle Business Club is een community met 9,500+ zakenvrouwen en professionals uit de lifestyle, beauty, fashion, interieur, branding. Het netwerk wordt opgebouwd in Amsterdam en 9 andere steden in NL. Maar ook internationaal in Londen, Ibiza, New York en Istanbul.
Zij organiseert netwerk evenementen met de volgende concepten; Coffee Meet Ups, Breakfasts & Lunches, Workshop en Lifestyle Business Fairs om ondernemers met elkaar te connecten.
Kom ook eens naar een van de lifestyle netwworks en connect met like-minded ondernemers. 
www.lifestylebusinessclub.nl